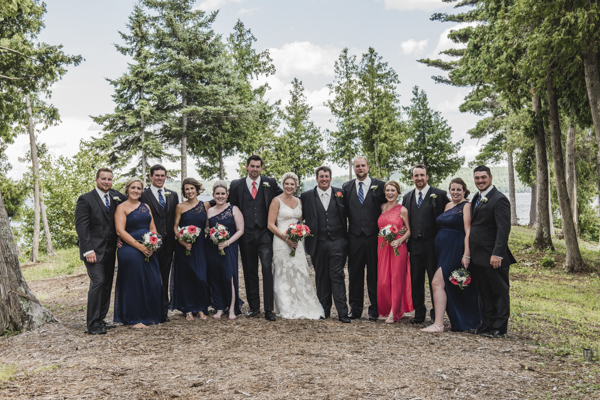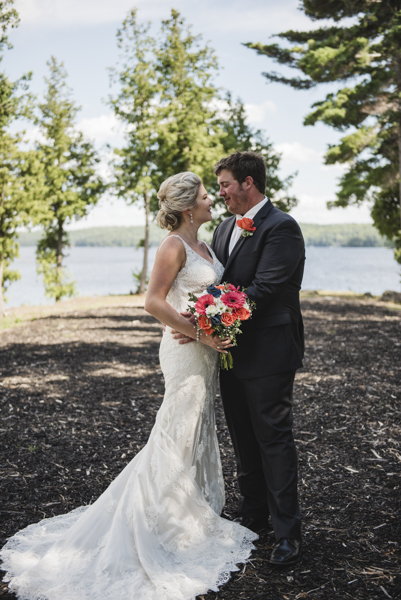 Summer Magic
images by Cindy Lottes Photography
One night after their adorable daughter was snug in bed, Chuck got down on his knee and asked for April's hand in marriage. She said yes! And so began their one-of-a-kind journey to a lovely and love-filled summer wedding day.
They chose Calabogie Peaks Resort in the Ottawa Valley as their venue and it was a gorgeous spot for an outdoor, July celebration in 2016.
Water, sky, grass and trees served as a magnificent backdrop for the lakeside ceremony.
The bridesmaids wore long, one-shoulder dresses with lace bodies and the bride looked gorgeous in a sleeveless, figure flattering gown with a low back. She matched its sleek style with a sophisticated updo.
The couple's wee daughter wore a white lace dress like her mom's, and a royal blue headband in the same colour as the bridesmaids' dresses. The colour scheme, royal blue and strawberry, was seen in all the pretty details, from the striking bouquets and table settings to the cupcakes and wedding cake. Even the chalkboard sign for dancing shoes (flipflops) "for tired feet" featured pink and blue chalk.
The impact was captivating and, judging by the stunning photos by Cindy Lottes Photography, a wonderful time was had by all.
Invalid Displayed Gallery
Here's a list of some of the vendors who contributed to this amazing day:
Renewed With Love Bridal Outlet