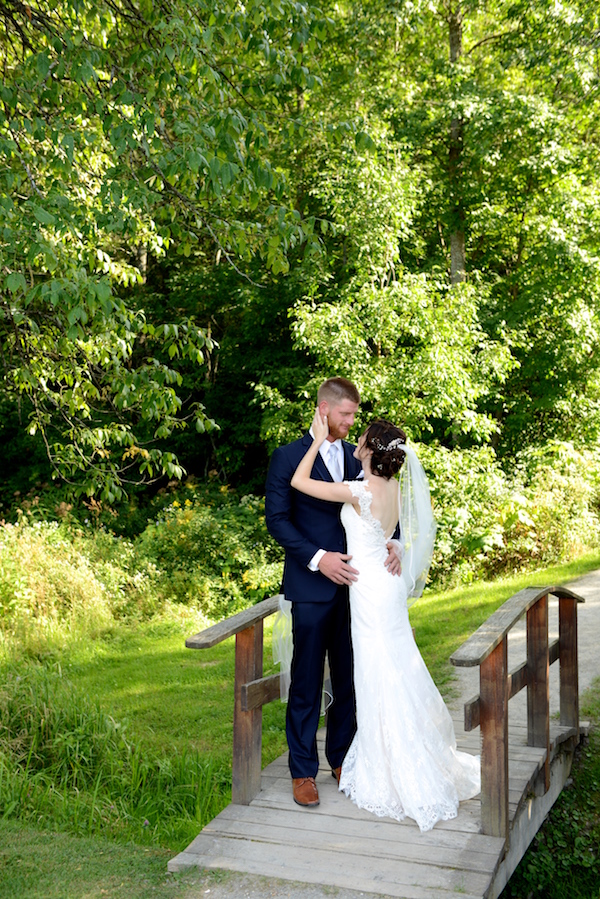 Home is Where Their Hearts Are
By Laura Jeffs and Photos by Dmitri Moisseev, Michael Lessard and Diana Bivolan, Artistic Wedding Photograph
Sunday, September 4th, 2016, I married the man fathers tell their little girls they will find someday. Jason and I started dating five years ago when he asked me on our first official date to be his date to a wedding. Jason proposed to me in the comfort of his home while I was holding a plate of pizza and in my pyjamas.
He told me as he was on one knee that he did not want to miss me anymore. He wanted to know that I would always be there when he came home. He knew the moment he met me that he loved me and needed to get to know me.
A bit about Jason's past:
Jason lost his only brother when he was 16; his brother was 18. The loss he had to try and make sense of at such a young age speaks enormously about his character and the man he is today. He has the kindest heart and would do anything for everyone. He wears his heart on his sleeve like I do. When he proposed, he asked for my parents' permission. I have two brothers that are extremely important to me and they have become very important to Jason. Leading up to our wedding, in February 2016, we had to say goodbye to a friend way too soon and way too suddenly. This friend was close to Jason's brother and looked out for Jason when his brother died. Planning our wedding when our entire community was grieving was not easy.
On the day of our wedding, it was as if our life felt lighter. I still remember the nerves and sheer joy I felt walking up to Jason during our "first-look." It was an extremely personal and intimate moment that I will remember forever. The weather was absolutely gorgeous and we truly had one of the most unreal sunsets. It was so incredible that during our dinner, everyone started running outside to admire the sunset and take pictures.
We drove through the town of Wakefield in a gorgeous, old fashioned white 1974 Excalibur and took pictures throughout the community. We stopped at the famous Wakefield bridge for more photos as well. Le Belvedere made all of our dreams come true. Our theme of baby's breath galore and rustic accent pieces went perfectly with Le Belvedere's setting.
We wrote personal vows that complemented each other's wonderfully. It was as if we had written them together. I have never felt so in sync with someone. We had many speeches throughout the night by our loving parents, our maid of honour, best man, and other close friends in our wedding party. We had family and friends fly in from all over the world to attend our wedding day, including a bridesmaid who came all the way from Australia, my oldest brother and his girlfriend flew from Vancouver, and my youngest brother from Louisville, Kentucky.
It was a day filled with love and surrounded by so many friends and family. My dad walked me down the aisle in his military uniform as he served 20 years in the Canadian air force.
Our evening was filled with laughs, tears and lots of dancing. I had a staff member of Le Belvedere ask me who our DJ was because they had never had a party like that in their venue. I have a professional dance background so our first dance was a beautiful Rumba choreographed to the song Tennessee Whiskey by Chris Stapleton. My father and I danced to Tiny Dancer by Elton John and Jason and his mother surprised all of us, including me, with their mother and son dance. It was choreographed to a series of songs, with many popular dance moves over the decades. We had many dance-offs throughout the night as a lot of the friends I made from dance schools attended our wedding.
If there is one thing I have learned over our first year of being married is just how important it is to find someone who supports you in everything you do, no matter what. As a gift to you, Jason, to celebrate our first year anniversary, I want you to know that my love for you has grown every day since I first met you and heard that incredibly infectious laugh of yours. You are so talented and so kind and I will continue to support you through everything you do. I cannot wait to watch you be the amazing father I know you will be to our children someday. I cannot wait to show you the world and travel it together. I cannot wait to live in a home that you build for us someday.
If there is one thing you must always remember, is that you have already given me so much in this world. So much more than I could have ever asked for or wished for.
Happy First Wedding Anniversary! I love you with my everything. Behind every elegant dancer, is a strong football player waiting to catch her.
"He is madly in love with her and she simply adores him"-Mr. & Mrs. Ebbers 09.04.16.
Venue: Le Belvedere http://lebelvedere.ca
Photographer: Dmitri Moisseev with Artistic Wedding Photography https://www.facebook.com/artisticweddingphoto/
Wedding Dress: Janine Adamyk Bridal Couture http://janineadamyk.com
Make-Up: Taryn Miller https://www.facebook.com/TarynMakeup/ http://www.tarynmillermakeup.com
Hair: Pure Hair Design http://www.purehairdesign.ca
Suits: Moores
Wedding Bans: Jason's: People's
Laura's: Taing Jewellers http://taingjewellers.com
Wedding Cake & Cupcakes & Cake Pops: Rajaa Abbas https://www.facebook.com/mrayosweet/
White 1974 Escalibur: Premier Limosines http://premierlimos.ca
Flowers: Costco
Bouquets: My mom and I did them
Officiant: Joan Bruce-Nibogie
DJ: Bobby B Productions https://www.facebook.com/Bobby-B-Productions-516236948471960/