by: Marriage Coach, Marian Meade
How To Reclaim Your Wedding -part 1
Your wedding is likely the biggest event you will ever plan- with so many details to think about and decisions to make, it can be quite stressful.  The biggest cause of stress, however, isn't the logistics-it's the people dynamics- including parents, in-laws, bridesmaids, friends and other family members.  Learning how to manage these relationships with finesse now will help create smooth sailing in the future.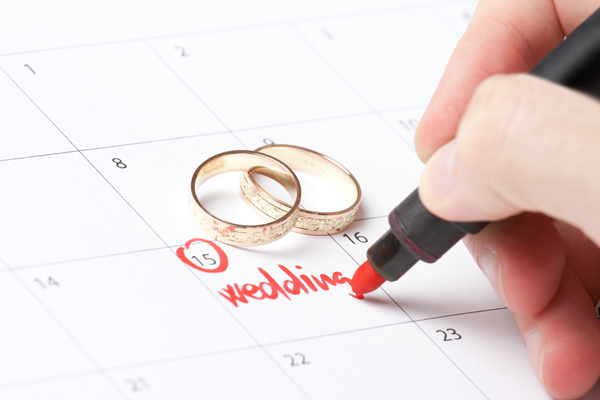 To help couples manage the 'people stress' aspect of wedding planning, newlywed Elizabeth Doherty Thomas  co-wrote the  book 'Take Back Your Wedding'- managing the people stress of wedding planning.… with her father, Marriage therapist William J. Doherty.  In the weeks ahead, I'll be putting together a series of articles based on their book.
While visiting chat sites to plan for her wedding, Elizabeth found lots of great ideas, but was chagrined to find that so many brides- to -be were frustrated and unhappy because of the interference of others in their plans.   They were being challenged by every decision they made, and many said they wished they could just elope. The most common advice they received was  'do whatever you want…it's your wedding.'  Of course you want to do things your way…AND there's the stakeholders to consider…it all requires a delicate balance.  Rather than creating hard feelings, or giving in to the whim of others, there are ways to include others, and have the wedding you want.
When we're dating, it's a very private matter.  We don't include family and friends in our decision making.  It's really a time for the couple to get to know each other.   Suddenly, once the engagement is announced, it's like everyone has an opinion.  You've now got not only one, but two families involved! This is obviously very challenging and requires real finesse to manage, but it can be done!
Here are a few general tips as you begin your wedding planning:
 Create a vision for your wedding with your fiancé.  This is a great opportunity for you and your partner to learn more about each other and how to manage differences of opinion.   If you are the more take charge person, give your partner time to come up with their thoughts and feelings.  Just because they don't say anything, doesn't mean you get to make yourself a big party.  By working as a team, you'll set the tone- that you respect your partner's opinion and that it's your wedding and all decisions will need to be carefully considered and agreed upon by the two of you.  How you plan your wedding is indicative of how you'll do your marriage.
Include the key stakeholders Parents especially will want to be involved in the wedding process.  Find out what's important to them.  Just because they make a suggestion, or they pressure you to take immediate action on something, doesn't mean you need to react.  Instead, be curious- find out more about where they are coming from, and why it's important to them.  Whether you agree or not, there's no need to shoot down an idea.  Keep the lines of communication open-it's all about respect.  As humans, we're all very sensitive, so it's important to express that you are grateful that they are keen.  You might say something like, 'that's an interesting idea….John and I will have to discuss it.
Be sensitive.    Although your wedding may be happy for you, some of the people in your world may feel sad that your relationship with them is going to change.  You'll no longer be single, and wont be as available as you used to be.  Rather than assuming that they don't care, take the time to check in and see what's really going on.
Stay tuned for the next installment of Enjoy Your Wedding!
Marriage Coach Marian Meade helps straight & LGBTcouples to stay in love for a lifetime.  You can find Marian at  www.marriagemindedcoaching.com.