How to revive your makeup bag for spring
While your thoughts may be consumed with warm weather wardrobes, you can't forget to update your beauty routine and shake up your makeup for spring. Grace Lee, celebrity makeup artist and Canadian beauty authority, helps you put your freshest face forward and tells you what to add, treasure, and trash this season.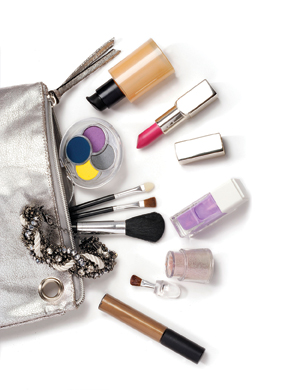 Update your colours. "As the weather warms, so do the colours: gold, rose gold, burnt orange and ochre," says Lee. "These colours provide the palette for the whole face. Adding a kiss of gold to the eyelid or lips adds dimension to colours while keeping the look soft and modern." Make your eyes pop by pairing these warm tones with a complementary colour like AIR OPTIX COLORS contact lenses in Blue. After all, spring is truly a time to #LiveInColor.
Be bold. Sometimes it just takes a simple lip colour to switch up your makeup routine and be ready to spring forward. From the classic red lip to bright fuchsias and corals, it's a perfect way to show off a dramatic and edgy spring style.
Know what and when to trash. Spring cleaning isn't just for your closet. Do you know how long you can keep your makeup products around? Remember that all makeup has a set lifetime but it varies by type. General rule of thumb is mascara: three to four months; lip gloss and lipstick: up to one-year but look at expiry date; liquid foundation: six to eight months; eye shadow: one year or longer – unless they get wet.
Let the guilt go. Giving up those unused products that are cluttering your makeup bag can be hard. We love to get attached to the things that made a significant dent in our wallets so we hold onto colours we'll never wear, and scents we don't like. It's time to take a deep breath and know that spring is a time of revival. "Just like you might experiment with a new hair colour or use a bold nail polish, AIR OPTIX COLORS contact lenses offer you another way to be unique, stand out and express your personality," says Lee. Out with the old and in with the new to keep your face as fresh as your closet this spring.
www.newscanada.com