There is so much to plan and organize when you're getting ready for your wedding day. You have to find the dress and the venue, pick the flower arrangements and color scheme, send out invitations and organize the reception, the list goes on. One commonly overlooked wedding essential, however, is your transportation after the reception. Wedding after wedding, you've seen couples ride away in a rented limo or town car. But if you are customizing everything for your special day, why not choose one of these unique getaway rides for the end of the ceremony?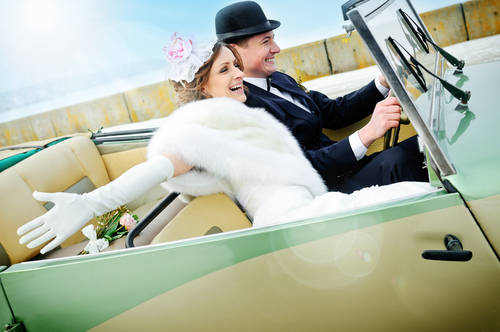 Vintage Car
Instead of a traditional limo or town car, rent a vehicle with some character and class. There are several car companies that pick you up in a vintage hot rod or an elegant classic car. For example, the Toronto company A Rolls Choice has antique Rolls Royce vehicles from the 1940s and 1950s that have been restored to look brand new. They offer special wedding transportation packages to pick you up from your reception in style. Your guests are sure to talk about that kind of send off for years to come.
Bus or Trolley
If you are leaving the wedding or going to a different venue with guests or your wedding party, a fun option is to rent a large vehicle that can fit a lot of people. TLC suggests using a school bus for a cute and whimsical ride, a party bus if you and your bridesmaids and groomsmen want to get a little rowdy or a trolley car for a fun photo opportunity. There is no written rule that says you have to ride away from your ceremony alone, so why not bring friends and family along for a unique wedding send off?
Snowmobile
We all know Ottawa winters can be unforgiving. But if you're having a cold-weather wedding, make the best of it by using a snowmobile to ride off into the sunset as man and wife. Guests won't expect it and will be impressed by your ingenuity, especially if you can figure out a trick or two to do as you ride away. Just make sure you practice and are comfortable on a snowmobile before you attempt to use one for your wedding. As Drivetime states, snowmobiles can be dangerous and even the pros can get seriously injured. So if you want a more adrenaline-fueled transportation method, a snowmobile may be for you.
Helicopter or Other Air Transport
It can be quite pricey, but if you have the budget for it, nothing looks cooler than being airlifted out of your wedding. One way to surely surprise your guests is to have a helicopter unexpectedly show up at your reception and whisk you away to your hotel or honeymoon destination if you're not flying too far. This is also an awe-inspiring wedding entrance idea if you want something truly unique. Just remember, you need to make sure there is a lot of open space to land a helicopter at your reception or wedding venue and that you need to clear it with the property owners.
Bicycle or Pedicab
If you want to go green and inexpensive with your transportation choice, a trendy option is hiring a pedicab to pick you up or pedaling your own bicycles. You can still hang cans and a "Just Married" sign from a pedicab or your bikes. To be really unique, use a two-person bicycle or unicycles. This also is a fun photo opportunity.