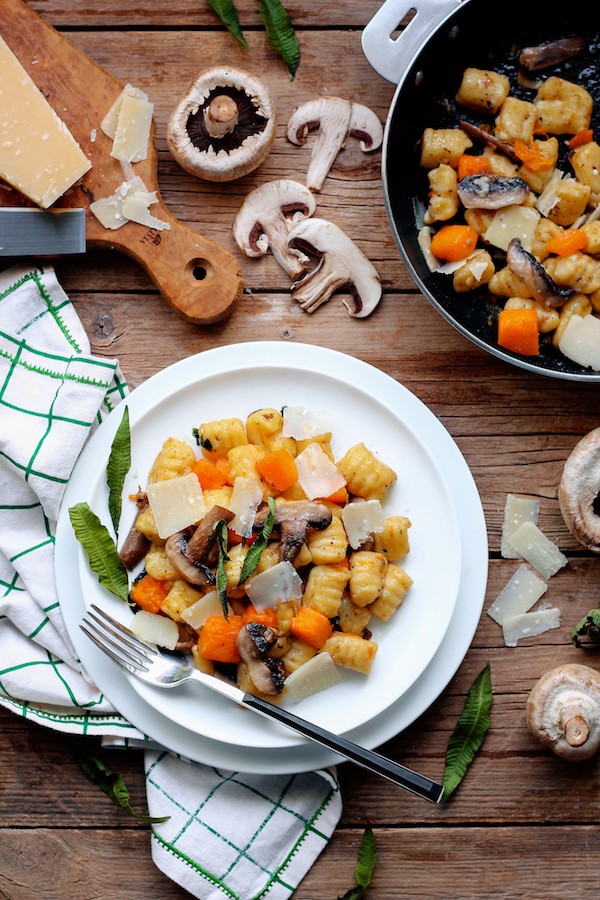 Time to heat things up a little with a date for two in the kitchen. Why go out for dinner when you can have some fun, spend some quality time and whip up something delectable together? Here are a couple of recipes, courtesy of Oleiva Traditional Extra Virgin Olive Oil , that will deliver a fab, upscale dinner plus romance … and some tasty snacks for later. Enjoy!
GNOCCHI, BUTTERNUT SQUASH, SAGE & MUSHROOMS
SERVES: 4
PREPARATION TIME: 10 mins
COOKING TIME: 35 mins
TOTAL TIME: 45 mins
INGREDIENTS
1 butternut squash weighing about 800 g (1.75 lb)
1 tbsp (15 ml) Oleiva Traditional Extra Virgin Olive Oil
Butter
6 sage leaves
1 clove of garlic, crushed
1 cup (120 g) shiitake mushroom
500g (1 lb) gnocchi
Freshly grated parmesan, to serve
METHOD
Preheat the oven to 200˚C (392˚F). Peel the butternut squash and cut it in half. Scoop out the seeds and fibres. Cut the flesh into 2cm (¾ in) chunks.
Put the squash in a large shallow baking tray. Drizzle the Oleiva Traditional Extra Virgin Olive Oil over top and toss the chunks until coated, then season. Roast in the oven for 30 mins until the butternut squash is soft and browned along the edges.
Meanwhile, melt a knob of butter in a large pan. Add the sage leaves and cook for a few seconds until they have deepened in colour. Stir in the garlic, then the shiitake mushrooms. Cook, shaking the pan occasionally, until the mushrooms are edged with gold.
Cook the gnocchi according to the packet instructions, then drain well. Finally toss in the drained gnocchi with the mushrooms and butternut squash. Serve with Parmesan.

Homemade Chewy Granola Bars
Serves: 12-20
Prep Time: 15 mins
Cook Time: 30 mins
Total Time: 45 mins
Ingredients
2 cups (500 ml) oats
½ cup (125 ml) sugar
½ tsp (2 ml) salt
¼ tsp (1 ml) cinnamon or other spices as desired (cardamom, nutmeg, etc.)
2½ cups (300 g) additions: dried fruits, seeds, nuts, flax meal, bran cereal, puffed rice cereal, crushed pretzels, chocolate chips, etc.
⅓ cup (80 ml) peanut or other nut butter
6 Tbsp. (90 ml) Oleiva Traditional Extra Virgin Olive Oil
¼ cup (60 ml) honey, maple syrup, or Agave syrup
1 Tbsp. (15 ml) water
Instructions
Preheat oven to 180˚C (350˚F). Depending on desired thickness, line a square (8×8 or 9×9) or rectangular (9×13) baking dish with parchment paper, then lightly grease the paper with Oleiva Traditional Extra Virgin Olive Oil. Thicker bars are a little more decadent, if you're planning on using this as a dessert.
Process ⅓ cup (80 ml) of the oats in a blender or food processor until finely ground.
If necessary, chop up dried fruit and nuts. Raisin-size pieces are fine, but dried apricots, or apples, let's say – should probably be chopped.
Stir together all dry ingredients (oats, ground oats, sugar, salt, cinnamon, fruits/nuts/seeds).
Whisk together wet ingredients – oil, honey, peanut butter, and water.
Mix together the wet and dry ingredients, then spread in the pan. Press firmly into the corners and edges so the top is even.
Bake for around 30 minutes, until the top starts to brown. Thicker bars will likely take longer, so you'll need to watch them, depending on how much batter you've spread in what size pan. The edges will become deep golden and they may feel underdone in the center, but that's okay. They'll firm quite nicely as they cool.
Let cool in the pan on a cooling rack for at least 20 minutes, then take them out of the pan using the parchment. Let cool completely before cutting.