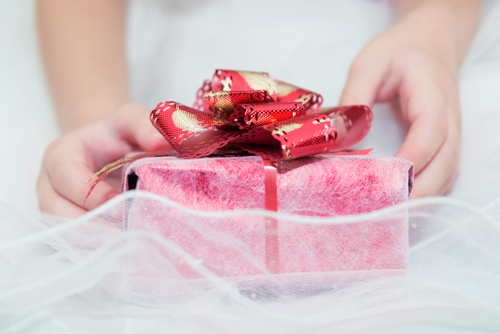 Just because your parents registered for five crystal picture frames and 12 identical sets of fine china doesn't mean you have to. In fact, who eats on fine china anymore, anyway?
Put generic gift giving to a halt by registering for items and experiences that interest you and your soon-to-be spouse. It won't only be more enjoyable for you guys, but the gift giver will get greater satisfaction, as well.
Wedding Registry Inspiration:
Concert/Event Tickets
Experience gifts are the rage. Everyone loves music and there's sure to be a show coming to town in the next six months that will have you itching for tickets. Whether it's the ballet at the National Arts Centre or an intimate blues show at Centrepoint Theater, there is a concert on the horizon that will make you both giddy. Add tickets to your wishlist and you will get the best seats in the house.
Local Brewery Tour
If you and your honey are connoisseurs of craft beer, ask for passes to the local brewery tour. This exploding industry has opened the doors for everyone to come out and play. Brew Donkey offers tasting tours of award-winning beers on a brewery and brew pub bar crawl that picks you up, takes you to three locations for samplings and education, and then drops you home. The five-hour experience gives you a safe way to tour the local breweries you've been eager to experience.
Cheese of the Month Club
You love cheese and cheese loves you. If you could've married cheese, you would have, but you settled for your beau instead. You now have the opportunity to get three hand-crafted artisan cheeses shipped right to your doorstep each month. Cheesemongers across Ottawa are just waiting for you to bite into this deal. There's no better time than now and no better person that a wedding guest to get you this golden nugget of a gift.
Electronics
It's the digital age so why wouldn't you register for something new to the market that you've had your eye on? For the guests that aren't into buying experience gifts, electronics are the perfect complement to your registry.
The GoPro Hero3+ is ideal for taking action video. The waterproof housing allows for you to go anywhere with it, even cliff diving on your Hawaiian honeymoon.
For a gift that keeps on giving, a new cell phone will bring tears to your eyes. Choose a new smartphone like the redesigned Samsung Galaxy S6 with a large display you can use for all of your web browsing, texting and photo opportunities.
Mix & Match Dinnerware
Mix-and-match dinnerware is the leader in the table decorating movement at the moment. Whether you prefer vintage-inspired delicate patterns or simple solid hues, ask your guests to buy from a selection of mismatched sets you chose at a local boutique. This is a great gift because the wedding guests get to personally select their favorite pieces and you can think of that person every time you decorate your table.
Home Cleaning Service
Coming home to a clean house after the wedding chaos had calmed would be heavenly. The last thing you want to do is clean up after the messy house guests have gone. Register for a gift certificate to a cleaning service that allows you to kick back with your feet up and enjoy being newlyweds… in your clean home.
Do you have any unique wedding registry ideas? Comment below!