In honour of Remembrance Day, let's put the spotlight on brides of the past and celebrate the young women whose lives were vastly different when the said "I do" and "I will."
How different? No Pinterest, no designer dress or bevy of bridesmaids and definitely no lavish dream-day affair. They fell in love during wartime, tied the knot in a n0-frills way and came to a foreign country to start a new life.
According to Veterans Affairs Canada, about 48,000 young women met and married Canadians guys serving overseas in World War II. They're known as Canada's war brides. Can you imagine?
It must have been challenging.
"These war brides were mostly from Britain, but a few thousand were also from other areas of Europe: the Netherlands, Belgium, France, Italy and Germany," a Veterans Affairs story notes.
Here's the rest of it:
"War brides also came to Canada after the First World War. The official Government of Canada history of the First World War reports that an estimated 54,000 relatives accompanied the returning troops following demobilization.
We salute this remarkable group of Canadian citizens who, for love, followed their husbands. Where their returning Veterans went, these young women followed and made their new homes in their young and growing land. These women were welcomed to their new communities and new families. The contributions of these new Canadians would soon extend far beyond the walls of their homes as they entered into the life of their communities and enriched it with their many abilities and hard work. The years following the Second World War were ones of unprecedented change for Canada and our country's war brides have played an important part in the growth and development of the free and peaceful Canada that we enjoy today."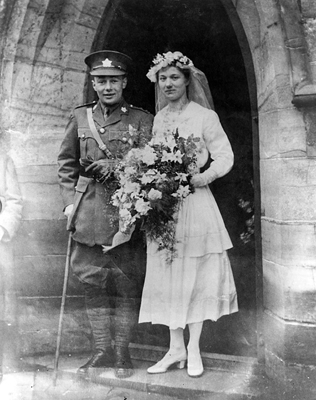 Many Canadian families and communities count themselves the richer for the contributions of the thousands of war brides, both of the First and the Second World War, who have made Canada their home.
Canadian soldiers – in training, on leave or in the hospital – fell in love. By war's end, an estimated 15,000 Canadian war brides and children lived in the United Kingdom. Many of these families later came to Canada to build new lives.
Photo: Library and Archives Canada/PA-008179