Sarah and Jamie were married at the Courtyard Restaurant in the Byward Market. They were there with their cute son, Hugo, and all their favorite friends and family.
When I met Sarah and Jamie for their pre-wedding meeting, I was immediately taken by their little son, Hugo. He is a good natured boy who likes everyone – a reflection of his parents.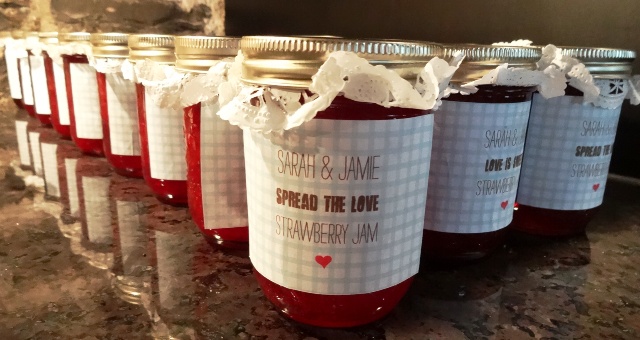 Spread the Love Strawberry Jam. Photo by Alan Viau
At the Courtyard Restaurant, I noticed that all the decor was very naturalist in theme. There was lots of wood, flowers and Mason jars.  I should not have been surprised since Jamie works as an arborist and has access to trees. They even made jam as a gift for the guests. It was labeled "Spread the Love".
Naturalist decor. Photo by Alan Viau
Before the ceremony, Sarah's father takes me aside for a chat. He is wanting to say a few words after I ask who presents the bride today. I let him know that it is not a problem and inform Sarah of his intentions. I like having a well planned wedding where there are few surprises. When he did present her, he told Sarah how much he loved her, his new son-in-law and his wonderful grandson. A beautiful start to the wedding.
Sarah's Dad giving them best wishes. Photo by Alan Viau
To add some humor in the ceremony, Sarah promised to put up with Jamie's wood chips that he brings home and Jamie would collect her bobby pins in the apartment. It all added up to a relaxed wedding that ended with a fabulous kiss to start the cocktail reception.
The Kiss. Photo by Alan Viau