Try this chic style for your big day
"When doing an updo, it always helps to start with a base," says hairstylist Sokphalla Ban. "Use a medium barrel curling iron to give lift to the hair  and thicken it a bit. This is an essential step for this glamorous style." Sokphalla says that for petite brides, an updo is a fabulous option. "Especially if your gown is big and billowy, a lot of fabric can make you feel shorter. So you create lift and height with the hair."
The first thing to do after curling the hair is to brush it out — not enough to lose the waves, just enough to smooth it and blend it all together.
"Keep the sides pretty loose and just sweep the hair back; this is going to give it some softness," says Sokphalla. "It's also going to give the illusion of high cheekbones."
Next, take two invisible elastic bands and separate the hair into two ponytails, one above the other, in the back of your head. Once the ponytails are secured, take sections of each ponytail and, starting at the ends, roll them toward the head, pinning them in place with bobby pins. Roll the top ponytail first, then the bottom, leaving pieces closest to the middle for the last
"It's important to leave the middle section for the end," Sokphalla says. "This is where we connect everything. You don't want to be able to tell that there's any separation."
Once the basic shape comes together, go back through with more bobby pins to separate the rolls and give the hair more distinction.
"You can lift pieces, do a little tweaking, twisting and tucking here and there," Sokphalla says. "Updos do not have to be complicated! The beautiful thing about this one is that you can place it wherever you want. More to the side, higher up, lower down — whatever. It's more about your instinct and how you feel your hair wants to go; it's very loose, not contrived, and doesn't require a lot of product in your hair that leaves it unable to move."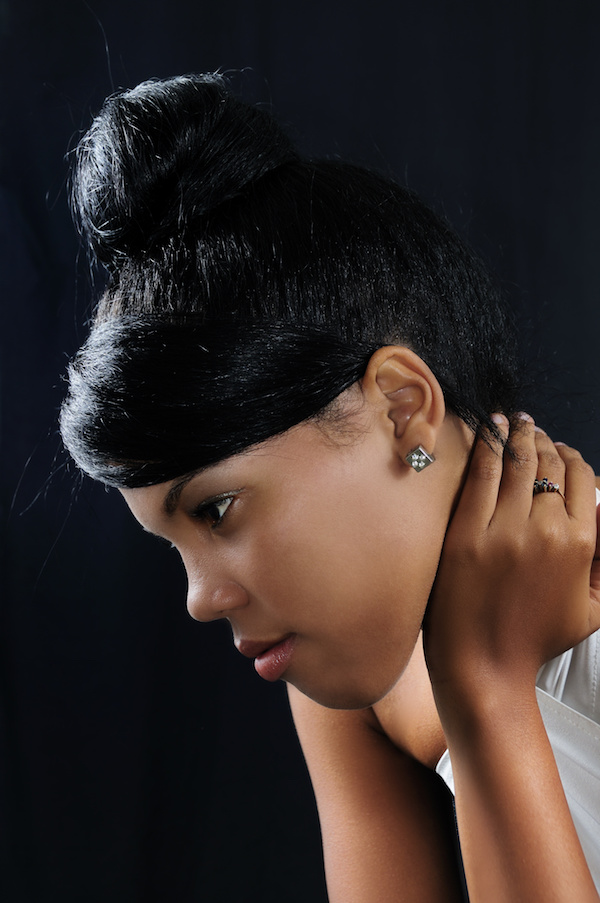 You can clean up the style with a bit of medium-hold hairspray and a comb.
"It's okay if some pieces are imperfect," Sokphalla says. "If there are some flyaways around the face and neckline, it gives life to the look."
If you try this look yourself, remember these tips:
-Thicken hair first, either with a thickening spray (if you have really thin hair) or a medium-barrel curling iron.
-Use hair pins that are the closest match to your hair colour.
-Use clear elastic bands. "This is essential," Sokphalla says. "The hair should look somewhat organic. You don't want to draw attention to things like the hair bands and take away from the gorgeous hair."
-Practice makes perfect. Definitely try this out several times before the big day to make sure you get it just right.
-If you want to incorporate hints of your gown or wedding into your hair, do it subtly, especially if you have a lot going on with your dress. "It's nice to sometimes add a little something to your updo; a hint, just a little tease," says Sokphalla. "Whether it's diamonds or flowers, place them artfully and seemingly randomly. When you're dancing or taking off your veil, seeing those subtle pieces makes the hair a little more special."
Source: Ottawa Wedding Magazine files.
This article originally appeared in the fall/winter 2013 edition of the magazine.