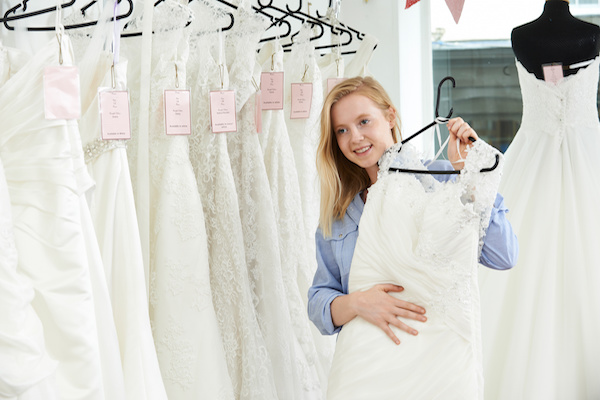 by Nicolina Leone
When it comes to buying your wedding dress, it can be an overwhelming experience. It has been glamourized and blown out of proportion by popular reality television shows that highlight the extreme highs and lows of buying a dress: crying mothers, screaming sisters, demanding fiancés. Let's take a step back into our reality and remember a few key things that will make the dress-buying experience the best it can be.
Who to bring
"Keep your group minimal; around four or five," says Dominique Levesque, owner of Dominique Levesque Bridal. "When there are too many opinions, the bride loses part of her moment when she tries to please everyone. And she will lose part of the surprise when doing her big reveal if everyone's already seen it when she bought it."
Sinders Bridal House associate Christine Sylvester agrees that less is more when it comes to attendees. "Keep it down; don't bring in too many opinions. Usually we see the mother-of-the-bride, mother-in-law, and some bridesmaids."
Don't let yourself be guilted into inviting anyone. Be honest and let any over-enthusiastic wedding groupies know that you are keeping the party small. Bring someone you trust to bring clarity to the moment, but [who] will also know when to hold their tongue because you've truly gone head-over-heels for your gown.
What to bring
Some brides like to wear a nude thong and a beige strapless bra, while others swear by boy shorts. "A strapless bra, spanx – whatever is going to make you comfortable on your wedding day," suggests Christine. In the end, as long as there won't be bunching under the dress, wear what will make you comfortable. Your first dress shopping experience can be nerve-racking enough without a wedgie. "Whatever underwear she'll be wearing on the day because that will alter the fit of the dress," says Dominique.
If you have any key pieces that you must work into your outfit – your grandmother's brooch, your mother's veil, a fabulous pair of shoes – bring them so you can match fabrics and styles. Lastly, bring a few ideas. "Bringing pictures is good. It's a good starting place and we can go from there," says Christine.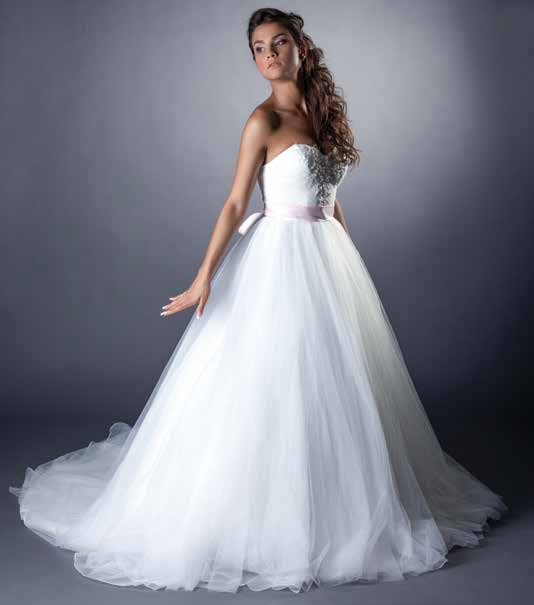 When can we get started?
"Only start shopping when you are actually ready and prepared to buy," says Dominique. She's seen sad stories of women who start shopping too early, before they have the money saved, or before they are ready to buy. They fall in love with a dress but can't afford it right away, or when they go back to buy it months (sometimes only weeks) later, the dress is no longer in stock.
But you also can't leave it to the last minute. "Shopping should be done five to seven months in advance of the wedding because you never know," says Christine. "And alterations at least two months before."
Connect with your consultant
Your consultant will not only be your guide through the maze of chiffon, silk, and lace, but she will be your ally, your confidant, your dictionary, and your personal shopper. Dominique explains that it is important to be open and honest with your consultant. "Make sure your consultant knows your needs by being honest. She will ask questions and want to know where you are with budget. Be up front. If you don't like something, let her know. Bring your ideas, but have an open mind. The relationship can be very special."
It may take you a moment to adjust to undressing with your consultant in the fitting room, especially if you decided to go with the nude-toned thong. But bare bottoms are not unusual in a bridal dressing room, "Please, I can't tell you how many nude people I've had in here," says Keasha Rigsby of Kleinfeld Bridal. You will be thankful to have help in and out of the elaborate gowns. Especially since most will not fit as they should, requiring you to be pinned in with expert hands. After one bride was in her first dress, which was four sizes too big, she was amazed by the transformation after Keasha pinned and tucked in all the right places.
"Sweetie, I was undressing you the moment I saw you," laughs Keasha, explaining the importance of knowing the bride's body.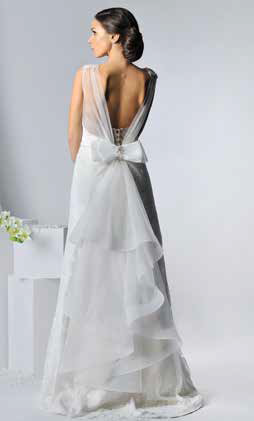 Choosing the one
Lastly, don't go in expecting to have the dress moment. It doesn't happen for everyone. You may not cry or feel an instant connection with the dress. You may just love it as much as you'd love any other gown that makes you look and feel fabulous. I've met plenty of women that aren't entirely attached to their dress. These are usually the brides that opt for "trash the dress" photos – which they absolutely love and can keep on display for the rest of their lives.
This doesn't mean their day was any less special or they were any less beautiful. Always remember, you are wearing the dress, the dress is not wearing you. And besides, you've already made the ultimate connection – finding that special someone to spend the rest of your life with. W