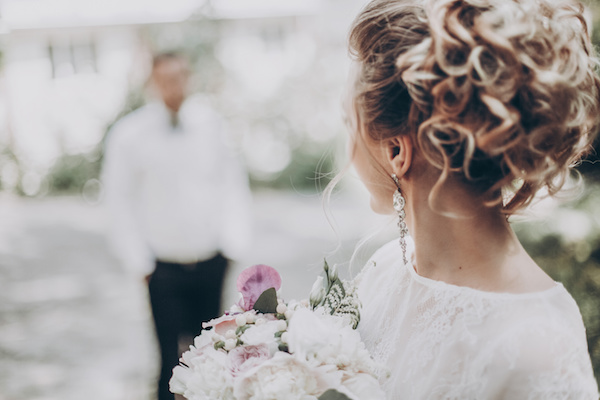 Statement accessories
The dress will always be the most important fashion selection you will ever make, but coming in a close second are the bridal accessories. Statement accessories are also stealing the show this season and we've selected a few of our favourites which pair beautifully with this season's bridal gown trends.
Bold earrings
We saw some pretty impressive ear pieces on the runway this year that were placed in a league of their own. From long, shoulder-duster earrings to metallic ear cuffs, earrings are the perfect statement accessory for that bride who's still looking for a pop of "wow"!
Metallic headpieces
Think a crown is only meant for royalty? Think again. We're slightly obsessing over metallic headpieces and are loving this edgy accessory to top off a glam bridal look. From faux-floral crowns crafted from metals to straight up tiara-style (but way-more fierce) headpieces, this look is perfect for the bride who wants to feel like a queen on her big day.
The forehead band
This is another big favourite of ours! If the traditional veil just isn't your thing, check out the boho-chic forehead band. Compared to the traditional headband, the forehead band rests closer to the hairline. Whether you opt for a jeweled band or a softer, crocheted look, the forehead band is sure to be a standout accessory on your wedding day.
Choker
It took some time to once again embrace the choker style of decades gone by, but seeing it as part of a bridal look is pretty spectacular. A dramatic, chunky short necklace is perfect for a strapless gown or plunging neckline, while a smaller chain pairs beautifully with a more elaborate gown that doesn't require much fuss from the accessories.
Cocktail ring
We know the band placed on your finger when you say your 'I dos' will be the most treasured piece of jewellery you ever own. But who says it has to be the only ring you rock that day? From oversized dome rings to long vertical baubles that span the majority of your finger, cocktail rings are a fun way to complement that manicure.