What We Love
by Lindsay Ruck
When you envision your day, what elements top your list? This season, couples are opting for natural decor, cutting back on glitz and focusing more on matte finishes and dusky hues paired with rich tones. Those rustic elements which flooded weddings last season are still going strong for fall-winter 2016, but with a new and improved twist. Out with the mason jars, burlap and bunting and in with soft draping, copper lanterns and green garland.
In this issue, we're highlighting a few of our favourite elements for 2016. From ethereal greenery to swoon-worthy vintage finds, these trends are sure to inspire this season's love birds.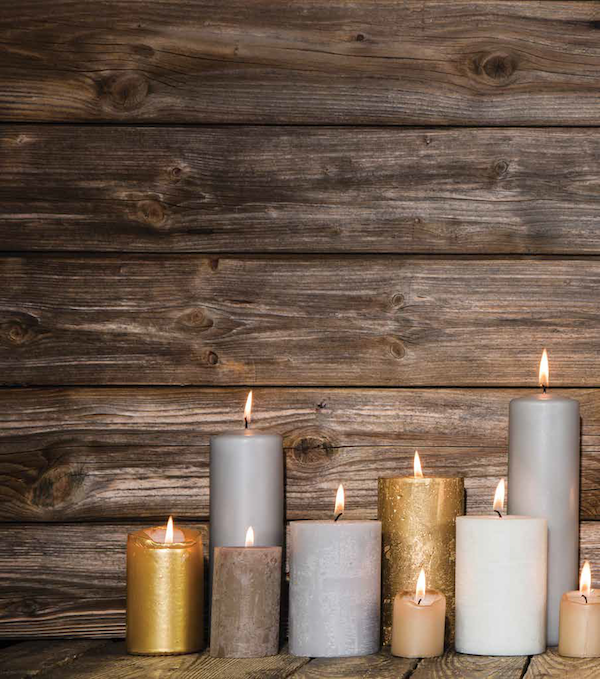 Colours
Pastels have been creeping into wedding colour palettes for several years. For fall, we're seeing pastel shades in dusky hues, such as Pantone's colours of the year, rose quartz (a powder pink) and serenity (a soft blue). For a sleek contrast, pair softer shades with rich tones of cranberry, copper, and deep purple. Other lighter hues include pale greens, peach, and soft violets.
Copper has risen to become the ultimate metallic touch to the day. From votives and lanterns to frames and Moscow mule mugs, this penny- coloured trend is outshining the currently not-as- popular silver and gold. Copper adds immediate warmth to a reception venue, and because it's on high trend alert, its never been easier to find for your day.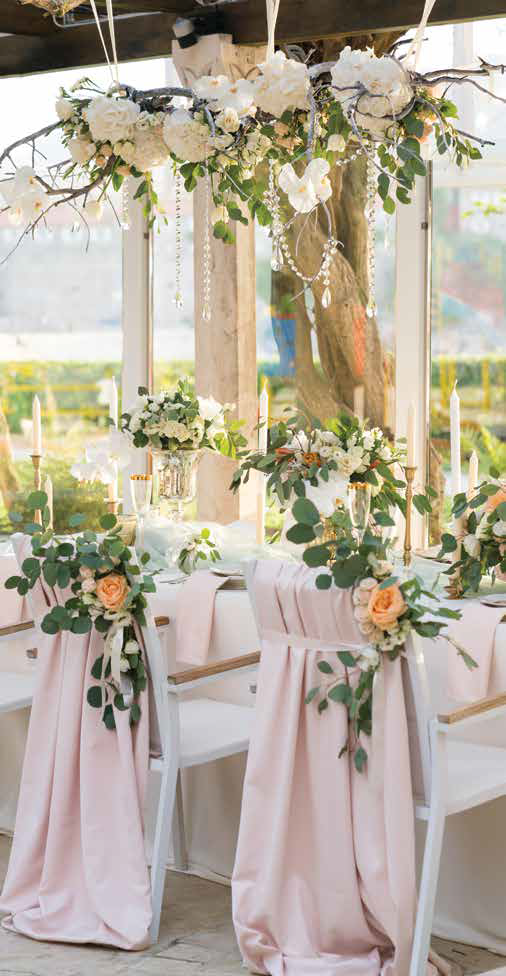 Fresh florals
Wild floral bouquets which resemble a freshly- picked arrangement from the garden are still popular this season. Florists are receiving multiple requests for garland and herbal bunches. Couples are opting out of the small pepperings of bouquets and selecting statement florals to run down ceremony aisles, drape across the head table and frame a doorway. Eucalyptus (or seeded eucalyptus), silver bell pods, paperwhites and tillandsia are all beautiful additions to wedding garland. Not only do these beauties look amazing, the savoury smells add an extra element of fresh to your special day.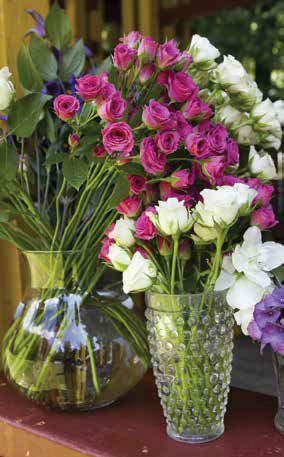 Chair trends
The coveted chivari chair has a few new contenders. Ghost chairs and crossbacks are hugely popular this season. While both chairs have been around for quite some time, more and more couples are now requesting these two simple styles.
Crossback chairs have a rustic and Tuscan feel and, like the chivari chair, can be dressed up or down to suit your wedding style. From dark mahogany to crisp white, crossback chairs offer a chic vibe to a natural setting.
Ghost chairs are mainly to serve one purpose: to blend in with its surroundings. Available in a number of different designs, the transparent chair is ideal for an elegant or contemporary setting. A lot of chairs can make a room look cluttered. The ghost chair allows your ceremony or reception venue to shine through with no competing elements.
Calligraphy
We're slightly obsessed with the beautiful art of modern calligraphy and hand-lettering. The wispy letters and smooth strokes harken back to the days of ink pots and wax seals. You'll need to master – or better yet source – a steady hand to achieve this coveted look which can be used on save-the-dates, invitations, signage, and all other desired wedding stationery. If you're looking for a way to kick your stationery up a notch, calligraphy may be for you!
Social media stations
These days, it's rare to attend an event which doesn't include a photo booth. It's an easy form of entertainment and gives guests something else to do when in need of a break from mingling. Technology wizards have gone one step further by creating the selfie station. It's quick, easy, and offers immediate digital results.
As opposed to having one small booth set up in your venue, display different backdrops around the room – complete with props – where guests can get together and snap a pick or two.
Budget-conscious couples love the selfie- station as it's a cheaper alternative to the photo booth. No need to hire an added photographer or coordinate with a company to roll in a large photo booth the morning of your wedding. The selfie station is maintenance-free and ridiculously fun.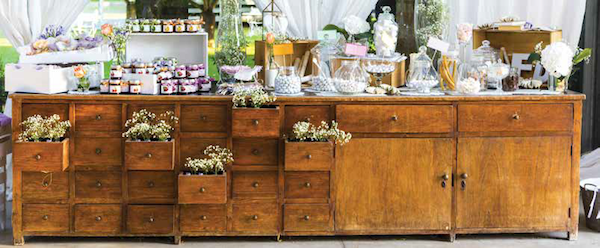 Food stations
Couples are offering guests more of an experience when it comes to the dining portion of their big day. Food stations are essentially a chicer version of a buffet. As opposed to everyone grabbing a plate and standing in a long line waiting for a thin slice of roast beef resting under a heat lamp, guests are encouraged to travel to different parts of the venue sampling a variety of gourmet selections. An oyster bar stocked with different toppings served by a "shucking" pro, a gourmet pizza station straight from a wood fire oven and a do- it-yourself taco bar are all interactive options.
Food stations can be as sophisticated or as low-key as you like. The important thing is to offer variety and disperse them around the venue to avoid congestion in one area.
This season, couples are less focused on the cookie-cutter Pinterest-perfect wedding day, and putting more emphasis on those elements which not only showcase who they are, but also treat their guests to a new and interesting experience. Think outside the box when it comes to your ultimate celebration and have fun planning what will be one of the most memorable days of your life! W
Honourable Mentions
There's no way we could include each and every one of our favourite seasonal finds. Check out a few more dreamy details that didn't quite make the cut.
Live music
There's nothing like a live band to get the party started. Couples are looking for that extra wow-factor by going beyond the DJ or iPod and hiring musicians to entertain guests before the ceremony, during cocktail hour, or following dinner.
Intimate gatherings
Smaller weddings are growing in popularity not only for the possibly cheaper price tag, but also for the intimate atmosphere. Hundreds of people – some you may have only met once – can be overwhelming. It's your day – choose quality over quantity.
Natural elements
Cement, cork, wood and stone are in high demand for many rustic and casual weddings. These natural materials pair beautifully with cascading greenery and dusky hues. The neutral palette means pops of colour can be obtained through florals, linens, and metallic decor elements.