Comfortable, Homey Vibe
Compiled by Ariel Vered and Photos by Phillipa Maitland
Selena and Marc have been together since high school. "He was dating a friend of mine," says Selena. "She broke up with him, so I asked for his number."
They had been together for nine years when one night in October 2015, Selena remembers, they didn't feel like cooking, so Marc ordered a pizza and threw it in the oven to stay warm. Selena was complaining to her friend, who was over, that she and Marc weren't engaged.
"Marc was sitting there, looking pretty nervous," she says. Once they were alone, Marc took the pizza out of the oven to reveal the ring in the pizza box. Marc got down on one knee and proposed.
They chose October 1 for their wedding date, which falls close to their anniversary of October 3.
The couple wanted a non-traditional wedding. They married at Marc's parents' house in Vars against a backdrop of giant pine trees. Selena got ready at the couple's home, which is minutes from Marc's parents' house.
Marc's uncle ferried Selena, her dad and her three nieces to the ceremony in his vintage car, a family heirloom.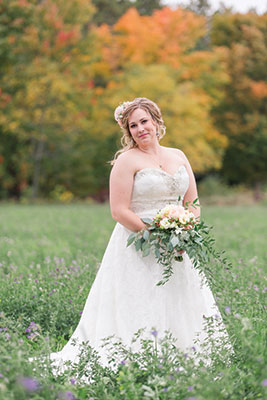 Selena walked down the aisle in an A-line lace dress purchased from Alliance Bridal in Moose Creek. Featuring a fitted bodice, the dress flared out at the hips, and had a sparkly belt and little sparkles all over.
Selena was seeking a non-traditional look, so she topped her wedding look off with a flower crown with artificial peonies, roses and greenery, which complemented the pastel wedding colour palette of light pink, purple and green.
Her cascading bouquet, from Beyond the House in Russell, had peonies, roses and greenery that flowed over.
Hosting the wedding at Marc's family home enabled them to imbue the wedding with a comfortable, homey vibe. They were married around a horse ring, which lent the wedding a country ranch feel.
During the ceremony, guests could grab drinks in mason jars. There was a campfire for people to hang out around.
"We loved that the guests could stay until whenever you wanted because we ran our own bar," says Selena.
"We wanted everyone to have fun and let loose."
The wedding's rustic vintage décor originated from Selena's love of old wooden painted doors. "My main vision was a dozen old doors lined up behind the head table in different colours," says Selena.
"Mr. & Mrs." was written on chalkboard on the two doors behind the newly married couple. Guests also walked through two vintage doors to walk through to the ceremony and the couple was married in front of another pair of doors.
Selena and Marc incorporated a sense of family into the décor, with framed black and white photographs of Selena and Marc's parents', grandparents' and great-grandparents' wedding days lined-up outside the wedding tent. Marc made the centrepieces himself.
Right after the wedding ceremony, the couple and their wedding party went to a family friend's nearby property to relax with some drinks and enjoy the moment.
"It goes by so fast," says Selena. They returned to the wedding site to share the rest of the day with their closest friends and family.
Selena remembers the magic moment of the first time they saw each other, as she was walking down the aisle.
"Marc has a contagious smile," she says. "I was bawling my eyes out, one of those ugly cries. I saw his big grin and knew it was going to go great."