Nothing beats the enchantment of a winter wedding. Snow-covered streets, crisp winter air and a cozy ambience that's both welcoming and romantic. But, the best part of choosing cold-weather nuptials? Enchanting photo ops, of course. While it may not seem the most ideal timing for outdoor photos, the unique elements of the season create stunning photographs summer brides can't compete with. Read on for tips on making the most of a wintry photo session and a few hints for keeping your guests happy (and warm!).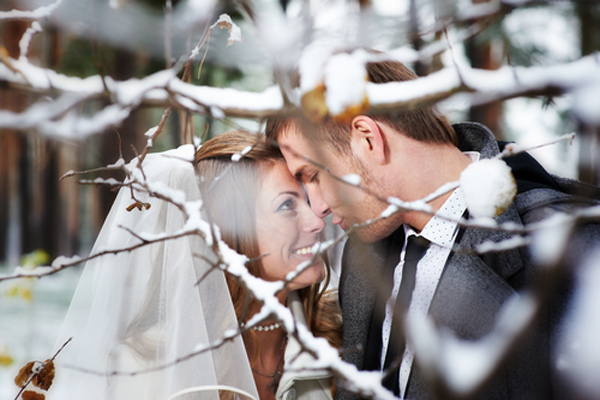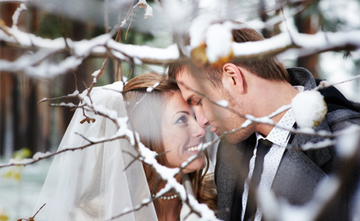 Bring the Outside In
You wished and hoped for snowfall; instead, you're left with freezing temps and bleak, nebulous clouds. Do not despair—a little pre-planning will help make these grey skies seem a little less gloomy. Prepare for a less-than-ideal outdoor setting by making the indoors as dreamy as the natural winterscape you imagined. Bring the outside in by incorporating crisp winter elements in your decor. Check out this Pinterest board for a myriad of beautiful ideas.
All Smiles: Don't forgo outdoor pics altogether. Of course, forcing a smile while standing in below-zero temps is no easy feat. Keep your wedding party happy with coordinating mittens and scarves that also double as photo props.
Create a Backyard Wonderland
A backyard wedding creates a warm and intimate ambience that helps make a winter wedding feel more cozy than cool. Keep your close-knit friends and family from getting too close by renting several space heaters. Turn your space into a true wonderland by stringing lights and hanging glittery silver balls up. Because you're opening your home to friends and family, make sure you add plenty of personal touches, like photos of your journey as a couple and pics of your pets throughout the reception area. They also make excellent conversations starters for guests.
All Smiles: If you have a pool in your backyard, you want to make sure you have the right accessories to use the pool as a backdrop by removing unsightly covers or debris. Make sure to add interest with pool and patio lighting and turn on the water features. Be sure to decorate in the pool as well. Floating candles create a charming mood.
Woodland Fairytale
A pine-covered backdrop is the optimum setting for a whimsical winter wedding. Make the scene even more serene with natural candlelight, soft floral accents and subtle details like lace-lined linens and pine cone centerpieces. Keep the theme going throughout with subtle woodland elements like a fern-filled wedding bouquet or use wood rounds for escort cards.
All Smiles: A woodland wedding is all about nature and the great outdoors. This means lots of time outdoors in chilly temps. Set up a special hot chocolate bar for your bridal party and guests to enjoy. A small tabletop fireplace also makes an excellent addition for staying warm without the smoky aftermath of a regular charcoal fire pit.