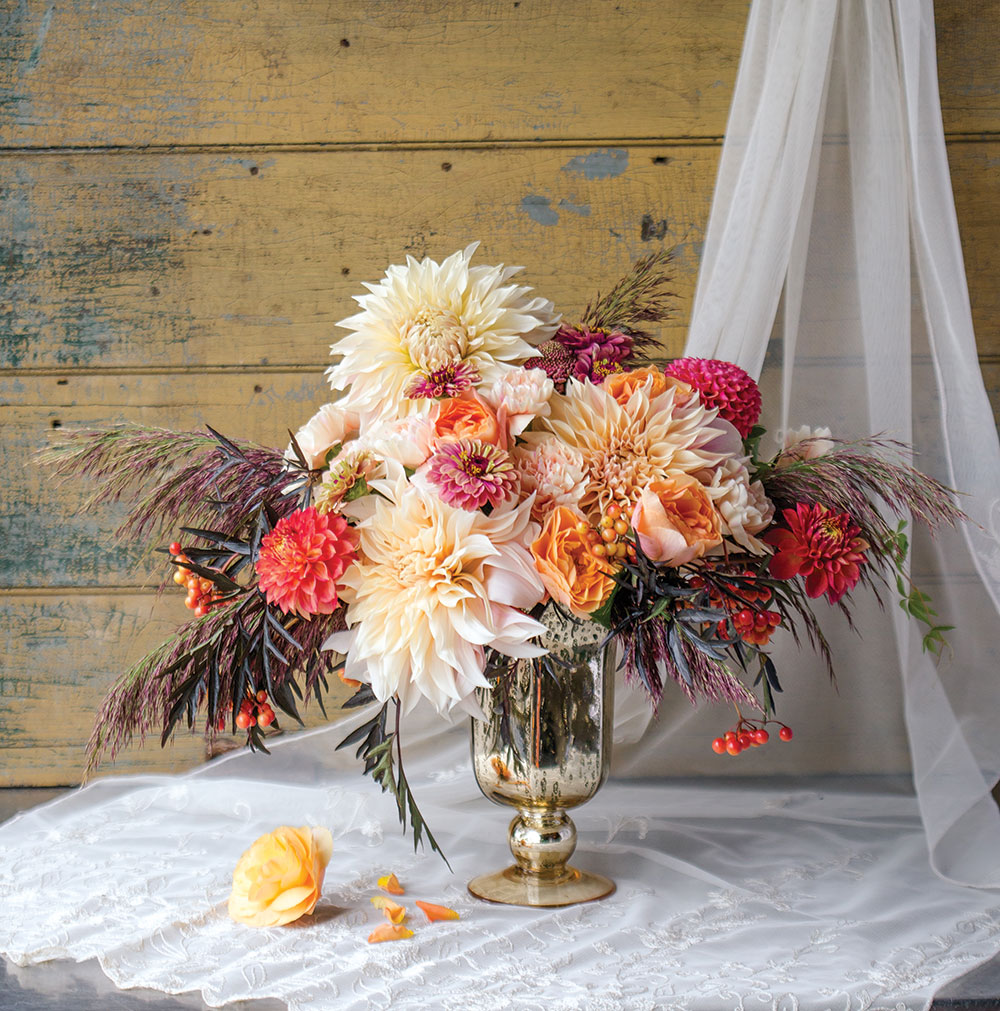 Bounty from this season's garden gives you fresh, elegant, colourful and very trendy options.
Photographed on location at Riverwood Gardens | riverwoodgardens.ca
On a warm day in late summer we harvested flowers from our flower fields at Riverwood Gardens. This creative collaboration was put together to showcase what can be grown locally here in Ottawa and to illustrate the varied designs that can be created using these beautiful flowers and foraged greens and branches from the fields and forest surrounding the gardens. The designs reflect the varied abundance that a local garden — and nature ­— can bring to enhance any wedding design.
A Basket Full of Summertime Brights
Dahlias, Russian Sage, Cosmos, Dill, Salvia, Rudbeckia, Grasses, and Ivy.
A perfect look for a wedding in the country for a relaxed celebration with friends and family. This look is effortless and fun. This has a bridal bouquet to match. A boho-inspired garden celebration of Dahlias, Love-in-a-Mist, Queen Anne's Lace, Larkspur, Russian Sage, and Salvia.
Golden Autumn Elegance
Zinnias, Café au Lait Dahlias, Carnations, David Austin Roses, Eucalyptus, Grasses and Berries.
A beautiful look for an elegant evening affair. This has a bridal bouquet to match (model holding it). A lush arrangement in warm tones for the bride and an abundant bouquet of the warmth at the end of the summer season. Café au Lait Dahlias, Zinnias, local grasses, Scabiosa, berries, and foraged greens.
A Garden Wedding
Astrantia, David Austin Roses in pale pink. Curly Kale, Gomphrea, Papaver Pods, Hop Vines, Basil, Dahlias and Moss.
A mix of herbs, vegetables, and flowers create a romantic look in a vintage metal fruit bowl. This has a bridal bouquet to match (model holding it). A hand-tied bouquet of lovely garden roses. Add in some fresh kale, berries, Astrantia, and garden gems complete the look — perfect for a late summer or early fall wedding.
Winter Jewel Tones
Cosmos, Astilbe, Scabiosa, David Austin Garden Roses, Tropical Leaves, Eucalyptus in a golden bowl.
This has a bridal bouquet to match (see model). Dark drama is a striking bouquet and head piece for a dramatic look. Dahlias, Amaranth, Zinnias, David Austin Garden Roses, Astilbe, and Feather Eucalyptus.
Tropical Tea Party
Orchids, Zinnias, Dahlias, and grasses. This is a creative mix of tropical and garden flowers, which is a very on-trend and creative, fresh look. A mix of modern and vintage.
Special Thanks
Flowers and Design: Amber Tiede
Venue: riverwoodgardens.ca
@riverwoodgardens
Photography: Phillipa Maitland
@phillipamaitlandphotography
Invalid Displayed Gallery