Oh My Gorgeous!
by Lindsay Ruck
A new bridal season means a new batch of beautiful swoon-worthy gowns, and bridal fashion week was bursting with fashion-forward designs for the spring 2017 season. A few of our favourites from previous seasons held on to their trendy bridal crowns, while other designers showcased fresh styles for the modern bride. Everything from plunging necklines and off-the-shoulder styles to oversized bows and pants made an appearance for the upcoming season, and while it was hard to narrow it down, we've rounded up a few of our top picks just for you.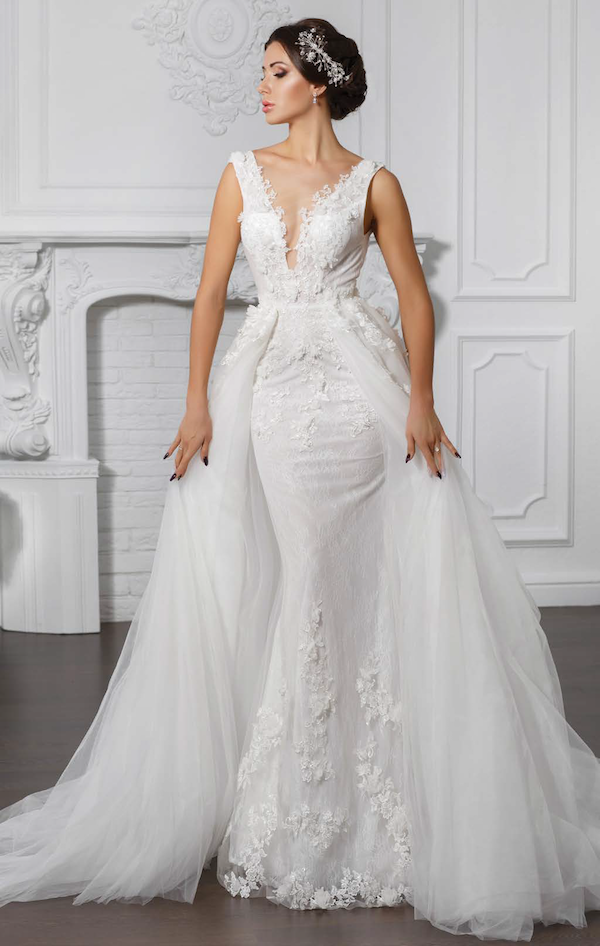 Plunging necklines
While open backs with deep cuts are still in high demand, 2017 bridal gowns also feature massively plunging necklines. This sexy style flooded runways and it's safe to say the plunging neckline is not going anywhere, anytime soon. Oscar de la Renta, Lela Rose and Romona Keveza have once again, perfected sultry elegance for the ultimate fashionable combination. Keveza showcased a breathtaking lace gown featuring a deep-V illusion neckline and illusion long sleeves. Lazaro fully embraced the plunge and showcased several in his 2017 designs, including a finale gown featuring a sweeping ballgown skirt and a low neckline showered in sparkles.
If you've got your eye on a plunging gown, keep in mind you may need to get creative when it comes to underthings, as a simple strapless bra just won't cut it. If sewing cups directly into the dress is not an option, stock up on tape and petals to keep everything in place and to avoid an embarrassing fashion faux-pas.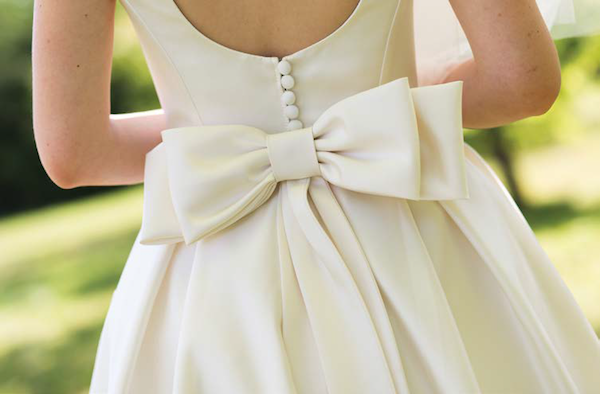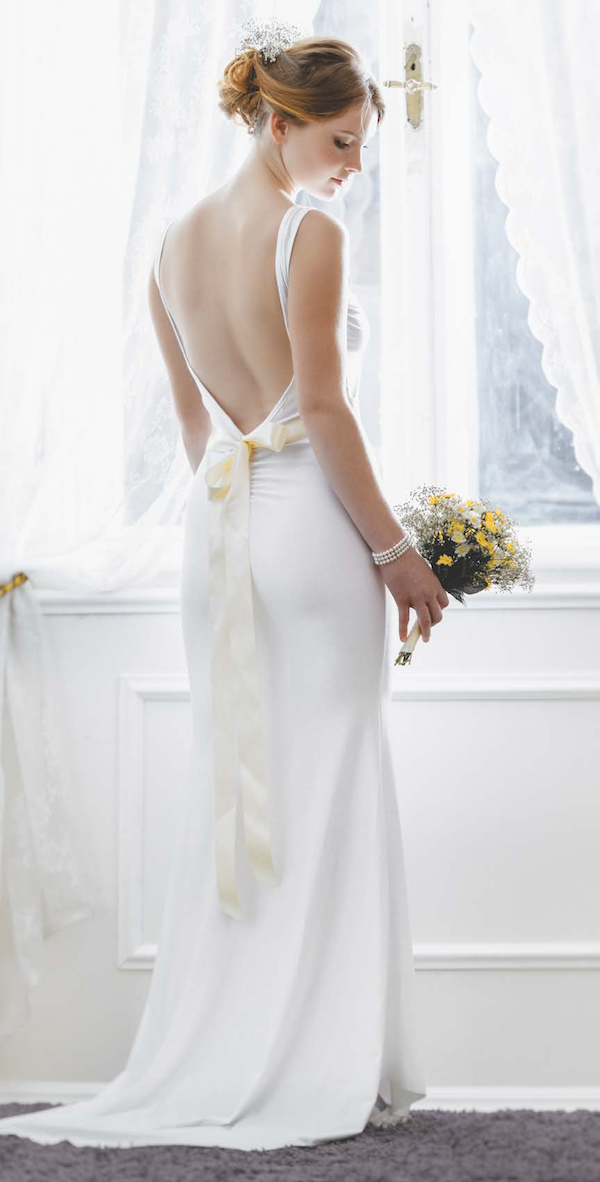 Oversized bows
We're loving the fun and flirty addition of over-sized bows to bridal wear. Perhaps inspired by a modern Audrey Hepburn, designers are using bows to add an extra dimension to their gowns and the results are beautiful. Carolina Herrera and Anne Barge both featured bows in their spring 2017 lines. Oscar de la Renta opted for functional and fabulous with the use of a large white bow tied around the back of the neck, while Herrera turned what would be a traditional strapless white gown into a work of art with a large bow placed on the back of a showstopper A-line gown. Wow your guests coming and going with an oversized bow applied to the train or add definition and structure to your waistline with a dramatic bow sash.
When your gown features standout elements such as an oversized bow, it's best to keep the accessories simple so as to not compete with the dress. Classic studs or drop earrings, a simple jeweled necklace or a delicate bracelet is all you need to complete this lovely look.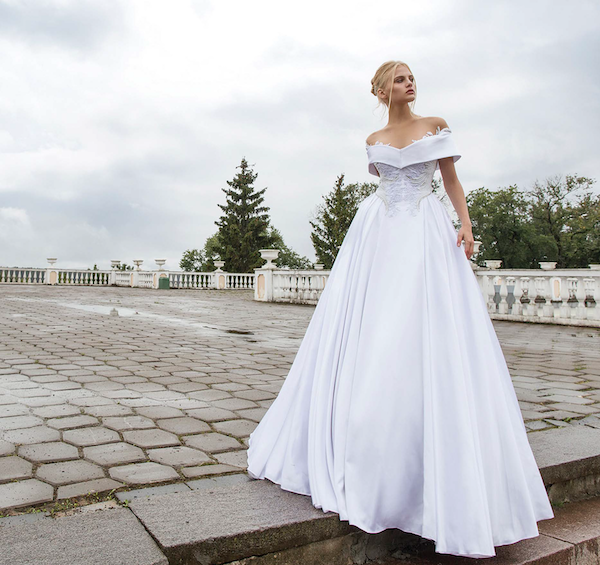 Off-the-shoulder
Off-the-shoulder styles made yet another appearance on the runway this season and was featured in both simple and more ornate designs. Following one shoulder designs and cap sleeve trends, an off-the-shoulder neckline is a natural progression for bridal wear. While considered romantic and timeless, many designers have put a creative spin on this look and have given the classic a modern twist. From ethereal and garden party-esque to sophisticated and formal, brides have their pick when it comes to the popular trend.
Among other noteworthy heavy hitters, Naeem Khan sent a striking blush silk organza off-the-shoulder gown down the runway this season, which combines another one of our favourite styles du jour: colour.
Something blue (and pink!)
Stumped on what you'll select for your 'something blue'? Pantone's colours of the year — rose quartz and serenity — made several appearances this season and we too are officially hooked on these dreamy hues. Mira Zwillinger, Hayley Paige and Monique Lhuillier all presented beautiful gowns in the coveted colours. Paige's line includes the ultimate 'something blue' — a moonstone tulle beaded ballgown with a rhinestone-encrusted bodice. Boho-beautiful designer Jenny Packham featured styles in both pink and blue hues. The ethereal gowns feature sheer sleeves and intricate beading — perfect for a bohemian affair.
Pants, please!
While the gown still reigns supreme, pants are making serious waves in the bridal world and we're loving the creativity. Monique Lhuillier took a popular street style and turned it bridal with "Presto" — an antique ivory Chantilly lace strapless jumpsuit. The designer took the style a step further and added a feminine touch with a champagne tulle overskirt.
The beauty of the bridal pant is its versatility. A killer stiletto and classic jewels take the look into any formal occasion, while a modern loafer or flat and a sleek pulled-back pony gives the bride a classic yet casual style.
Bridesmaids are also popping up with rocking chic pant suits or jumpsuits — a welcome selection for those girls who tend to steer clear of dresses on a daily basis.
3-D design
This isn't the first time we've highlighted this artistic trend and we're guessing it won't be the last. Marchesa's spring 2017 line included an enchanting fit and flare corded lace bridal gown with 3-D silk organza rose tulle overlay and 3-D roses caressing the shoulders. Mira Zwillinger sent several 3-D detailed gowns down the runway — each one more beautiful than the last.
While we love keeping up with all things trendy in bridal, your wedding day style should most importantly reflect you and the mood of the day. Whether formal and classic or off-beat and whimsical, the bride should don that one dress that makes her feel beautiful from head to toe. Don't be afraid to try on different styles until you find the one that is oh-so-you. W