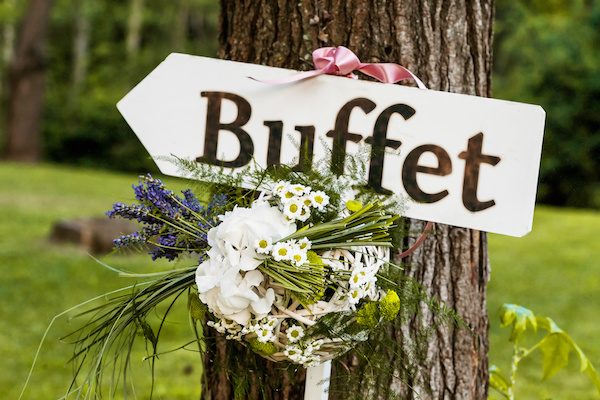 by Lyndsay Ruck
Whether you're tying the knot under the setting sun; saying 'I do' in a church; or have rented a hall to dance the night away, there's that big detail of decorating the ceremony and reception space. For some, a blank canvas is a dream come true, leaving complete creative freedom up to the designer. For others, it is a daunting scene that begs the question, "Where do I start?"
Well have no fear! Ottawa Wedding has got you (and your space) covered. Read on to learn how to turn any drab space into absolutely fab.
Embrace Mother Nature
An outdoor wedding allows couples to let their surroundings be the backdrop. Whether a lush garden or an open field, the key is to enhance the beauty of your backdrop.
Outdoor ceremony site
If you're saying 'I do' under a ceiling of blue sky (or twinkling lights) then there are ways to personalize and maximize the space.
With no obvious aisle laid out, couples have been extremely creative in choosing what they would like to use to line their path. Flower petals are a delicate touch that add a hint of whimsy to your walk. Other less obvious choices are baskets filled with apples, bunches of flowers or colourful leaves.
An idea that is growing in popularity is personalized aisle runners. This is basically a few yards of fabric that has a message printed down the length of the aisle. Some couples have written love notes on them, inscribed "I love you" in multiple languages, or used favourite quotes that speak to the couple's love.
An arch to frame the top of the aisle is always a beautiful touch. A wooden arch could be painted one or multiple wedding colours, while a simpler frame could be sprinkled with flowers and leaves or draped in fabric.
Dancing under the stars
Props are a wonderful addition to an outdoor affair and you may be surprised at just how "indoor" your outdoor reception can become.
A tent is not only a chic look, but also smart when gambling with Mother Nature. One of my favourite champagne-inspired looks is hanging multiple white balls or round lanterns from the metal tent's support beams. When guests look up, they'll feel like they're floating in a bottle of bubbly.
Small twinkling lights are also a savvy yet chic touch to a tented reception.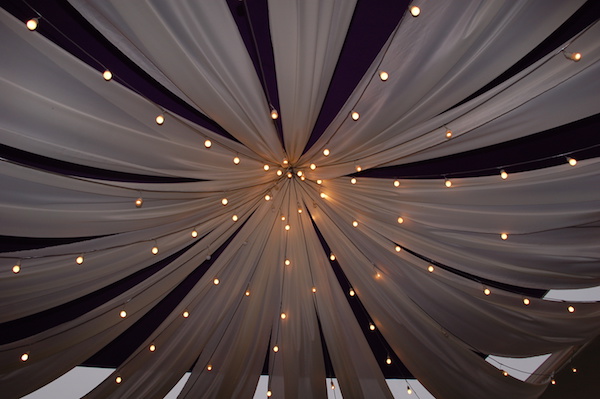 If you are brave enough to opt out of a tent, then you really are working with a blank canvas. This is where tables, linens, lights, florals and more will all be called to action. Furniture is a trendy addition outdoors, not to mention great props for photos. A few couches and chairs, a rug here and there and some scattered lamps (for decor purposes only) or candles big and small, will really bring a cozy inside feel outside.
Trees are wonderful tools that open up a world of decorating possibilities. From hanging decor off branches to wrapping twinkling lights from top to trunk, trees come alive with a little TLC.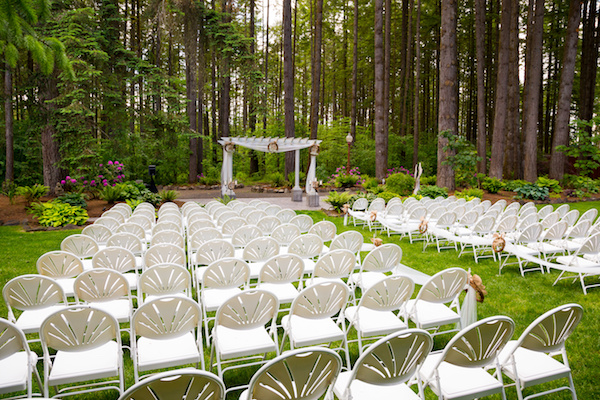 A fun DIY that sends a nod to loved ones is a family tree. Stock up on frames and paint them whatever colours your heart desires. Fill them with photos of those past and present and hang them from the branches. It's a project that takes little effort and shows lots of love.
Step inside
Venues such as halls, banquet rooms or recreation centres usually always need a little (or a lot) of work when it comes to making the space pop. This is where the creative genes really need to start flowing.
A starting point is to pick one key item as your inspiration. This can be a centrepiece, linens, the wedding party attire or the showstopper cake.
To make a space feel more intimate and not as sterile, draping the ceilings in fabric is a stunning effect. This cannot work in every space and rafters or beams are a great help. For a fun and bright pop, go for the bolder colours, like yellow or rich blues. For a softer more elegant feel, try whites, creams and light rose.
To cover your bases from top to bottom, you can also hit that bland floor with some ground-sweeping linens, a few area rugs or a rental carpet or wooden floor. These are all additions that will alter the room only for the evening and make a huge difference.
Just like the outdoor family tree, spruce up your space with photos. Try to find different size frames that can be arranged either on the walls (if the venue permits) or on a table. Guests' eyes will automatically be drawn to your mini art gallery of personal pics. Other small additions include hurricane vases filled with petals, baby's breath, twigs or candles, mason jars filled with candles and table lamps used as centrepieces.
Lighting
While flicking on a few switches is all well and good, there are multiple options when it comes to lighting a space, and a little or a lot of light can change the entire look and feel of your venue. A lighting designer is your best friend when it comes to making you, your guests and your space look perfect. Soft lighting adds a romantic and warm glow to a space. Coloured gels will actually adjust the intensity of the light for a softer, more natural look.
So don't let an empty space turn you off for your big day. Any venue can be snapped into chic shape with a little love and a lot of creativity. Happy decorating! W