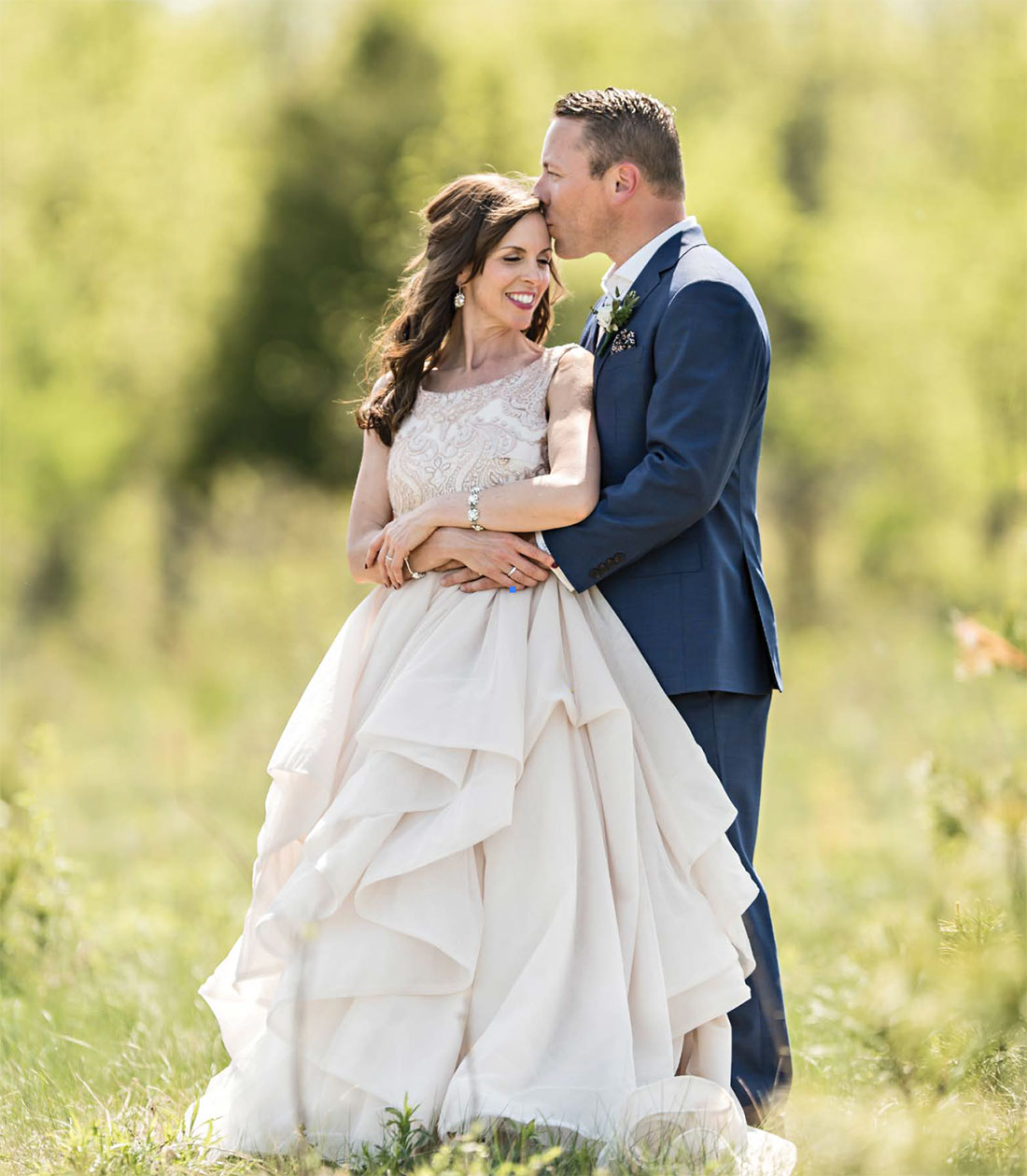 Flawless Combination
From business plan to life plan.
By Iris Winston and Photos by Derrick Rice and Andrew Geddes, Union 11
Stephanie Brown and Steve Malenfant had been helping couples make their wedding dreams come true for years. So, it was a truly romantic venture for them to put the finishing touches to their own happy life together.
As co-owners of Stonefields Wedding and Event Destinations, they tied the knot on a gorgeous day on May 22, 2016. However, the story of their romance began more than a decade earlier when they met through an online dating site.
"Lavalife worked for us," says Stephanie, a high-tech professional when she and Steve first connected, adding that they talked online and by phone for some time before they met in person for their first date.
"Both of us travelled extensively because of work, making it difficult for either of us to have time at home to meet anyone."
A year after their first date, Stephanie and Steve moved in together on the road to the next stage of their future together.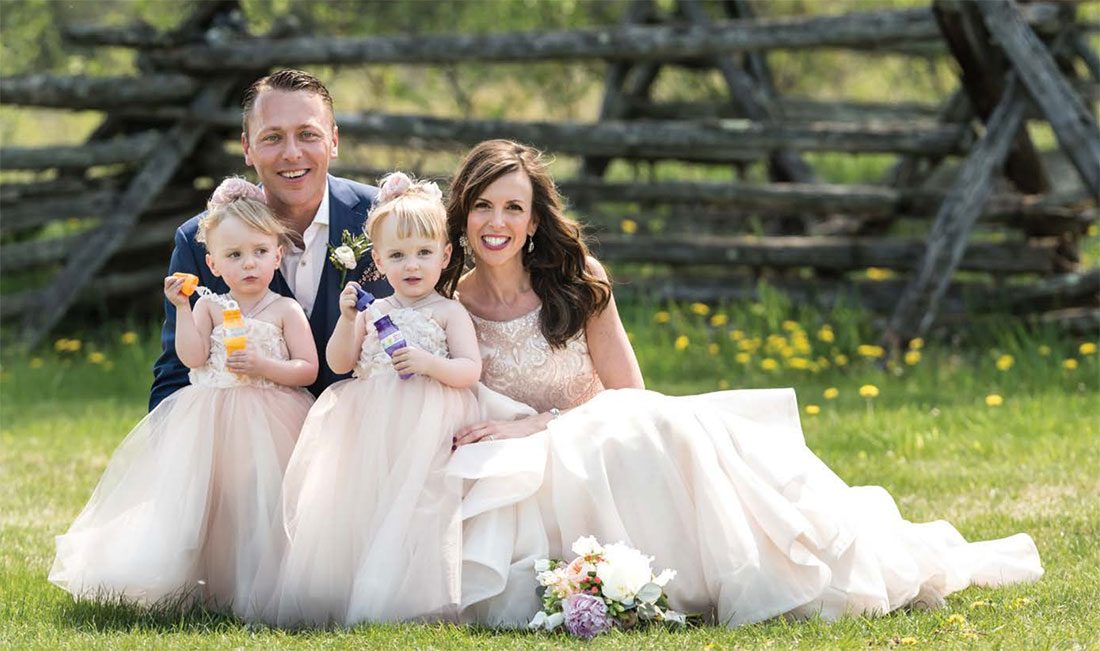 As well as finding each other, they soon discovered that they shared similar ideas about what they planned to do for the rest of their lives.
"We wanted to live on a farm and we loved bringing people together and making them feel special," says Stephanie, adding that Jack Canfield's Success Principles inspired them to move forward.
"In this book, he talked about taking what you are most passionate about in life and turning it into a living," she explains. That is just what Stephanie and Steve, now retired from his military career, decided to do.
"We started to build our business plan and spent nearly two years driving up and down country roads trying to find the right farm," she says.
"We finally came upon a 120-acre, pre-Confederation farm that took our breath away." After purchasing the property in Carleton Place, they set about turning it into a welcoming place that couples could use to share 19 special memories for their wedding day, and other events.
"When Stephanie and I started this journey, we didn't foresee the energy and effort it would take or realize how we would grow with the business as a couple," says Steve.
"While our relationship was growing, we also needed to grow together in so many areas — as business partners and entrepreneurs — to make this work. It's been an amazing journey that has brought us closer, as we have built the business."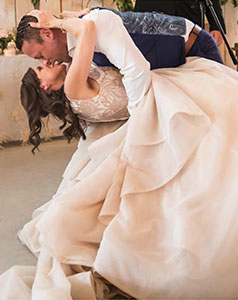 "It has been almost funny just how often we naturally fit and work together with our different skill sets," he adds.
Stonefields flourished as they worked together and their lives continued happily. They adopted a pair of Bernese Mountain puppies — named Lois and Clark with Superman in mind — and gave birth to twin daughters, Olivia and Gabrielle.
("Our miracle," says Stephanie. "I was 42 years old when they 20 "Our dream continued to unfold as we worked our way towards building our dream venue," says Stephanie. "Then, in 2015, just when life couldn't get any better, Steve proposed."
At that moment, they were checking the progress of the new loft section being built on the site. He presented her with a ring bearing three diamonds in a bar and said he wanted their wedding to be the first in the new building — at the very beginning of the 2016 wedding season.
"That was less than five months away," says Stephanie, adding that the prospect was somewhat daunting. "But through the help of our team and our wedding industry friends, we made it." The wedding turned into a three-day affair, explains Stephanie.
On the first day, there was a welcome barbecue, complete with lawn games, a wine and Scotch-tasting bar and a bonfire, she describes it as "a casual event to welcome our out-of-town guests and introduce family and friends."
The second day was the wedding ceremony itself. The next day included brunch, a Mimosa bar and treats. "It was a lovely way to spend quality time with our guests before they left."
One of the most special moments of their wedding day itself was the bride's walk across the field towards her groom, holding her 21 three-year-old daughters by the hand, all three dressed in the wedding colours of blush, cream and pink with matching flowers in their hair.
Lois and Clark, now going on nine years old and wearing floral wreaths, were led down the aisle by maid-of-honour Janet HayLeblanc, Stephanie's best friend since the two met at a gymnastics class when they were in Grade 5.
"The dogs are cherished family members and it was important to us to have them involved in our day," says Stephanie.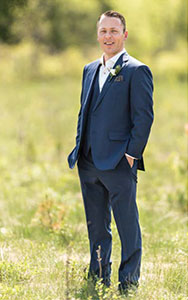 "The whole day was a dream come true," she adds, recalling the biggest smile she had ever seen on Steve's face, as she and the twins walked to meet him and best man Mitch Boudrais — Steve's long-time closest friend from their military days.
The 90 wedding guests watched as Stephanie and Steve exchanged vows before marriage officiant Gord Marriage (yes, this really is his name).
After a four-course dinner, the newly married couple shared their first dance, taking the floor to John Denver's Take Me Home, Country Roads, performed by The Jackson Miles Band.
"This became our song 10 years ago, when it kept playing on the radio during our first road trip together to visit Steve's family in Cape Breton," says Stephanie, adding that the song seemed particularly appropriate, given the many country roads they had travelled along when they were looking for the farm that they bought in 2009.
"The band and the DJ really gave the evening a fun atmosphere," says Stephanie.
"They created the best vibe to keep everyone dancing and having fun at the new loft." Since their ceremony, more than 100 weddings have been held in the new Stonefields Loft.
The building also received a platinum, new-venue award from Ottawa Weddings in 2017 to add to several other awards that Stonefields has won over the years as a top-rated location for weddings and other events.
The latest development is to winterize the loft in order to expand the wedding season as demand continues to grow. All this is good news for Stephanie and Steve from a professional perspective. But, says Stephanie, it is impossible to top the memory of their special day.
"To be surrounded by so much love, so much support and such important people in our lives, was magical. Getting to be guests at your own venue was certainly icing on the cake," says Stephanie
"I feel truly blessed to have everything I have ever dreamed of having."
Wedding Party
BRIDE: STEPHANIE BROWN
GROOM: STEVE MALENFANT
MAID OF HONOUR: JANET HAY-LEBLANC
BEST MAN: MITCH BOUDRAIS
FLOWER GIRLS: OLIVIA AND GABRIELLE MALENFANT
MASCOTS: BERNESE MOUNTAIN DOGS LOIS AND CLARK
VENUE: STONEFIELDS LOFT
WEDDING PLANNERS: LYNN LEE
WEDDINGS OFFICIANT: GORD MARRIAGE
FLOWERS AND DÉCOR: WEDECOR
WEDDING GOWN: WITH LOVE BRIDAL BOUTIQUE
BAND: THE JACKSON MILES BAND
DJ: QUALITY ENTERTAINMENT
PHOTOGRAPHERS: UNION ELEVEN PHOTOGRAPHERS
VIDEOGRAPHERS: COOPER STREET PRODUCTIONS