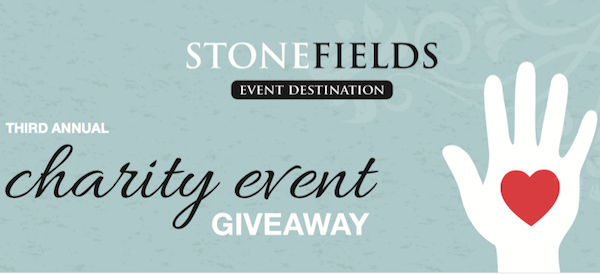 Have you been to Stonefields? It's a timeless and exclusive outdoor event destination located just outside Ottawa in Carleton Place, Ontario. It's also a local business that's passionate about people, events and making a difference.
Along with its partners — Quality Entertainment, Mastermind Event Rentals and Mill Street Florist — Stonefields is launching the third annual Stonefields Charity Event Giveaway! The people behind the name will be donating this beautiful venue, including its brand new reception facility, The Stonefields Loft, along with a three-course dinner by a culinary team, dishware, staff and services for a charity fundraising event. Partners will be donating music and equipment, linens, flowers, and decor.
Send Stonefields your story—in one page or less, and explain why your charity should be chosen. Describe the type of event you will organize, how you will promote your event, and how you plan to raise funds for your charity.
contest rules & regulations
1 – Open to any charity organization in the greater Ottawa area or Ottawa Valley.
2 – Applicants must include their full contact information, information on the charity they are representing including the charity's website and/or the charity's mission statement and what areas the charity serves.
3 – Nominations accepted from March 1st to March 15th, 2016 via email to charityevent@stonefieldsheritagefarm.ca.
4 – The draw will take place on March 16th, 2016 and the winner will be announced on www.facebook.com/stonefieldseventdestination and www.stonefieldsheritagefarm.ca and www.twitter.com/stonefieldsfarm
5 – Winning event will be a three-course sit down dinner held from 6 pm to midnight and must take place on Friday, July 29th 2016 with a maximum of 100 guests.
6 – Every penny you raise at the event must go to your chosen charity.
7 – Beverages are not included in the event giveaway.