Canada's Capital and the iconic National Arts Centre provide a luxurious setting.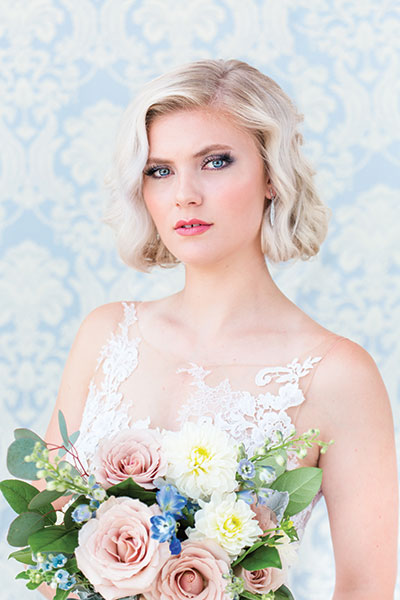 Since the very first concept planning meeting, Phillipa and Jenny knew immediately that they wanted the setting to be at the newly renovated National Arts Centre in the O'Born Room.
It was hard to resist with its beautiful views overlooking Ottawa's most iconic landmarks, and they knew they would definitely take advantage of all the natural light that the room has to offer with its floor-to-ceiling windows.
Jenny knew that the design had to be grand to complement the already stunning qualities the room has and to compete with the incredible views. During the early design stages with Phillipa, it was clear they wanted the set-up to be very luxurious and the palette to be one that complements the warmth that comes with the spring season.
Phillipa had asked Jenny to incorporate a tone of blue into the overall design to pick up on the model's beautiful blue eyes. This was perfect for Jenny; with so much inspiration for the project she knew exactly what she was going to put together for this styled shoot.
While working on the mood board, Jenny realized that there was actually a lot to consider, to ensure there was the right balance of every element. Every décor piece had to stand out individually, but also look beautiful in the overall design. The first step was to carefully select the flowers to use.
These were going to be a huge part of the focal point that had to really look as amazing as the spectacular backdrop of views from the room, and this is where hints of blue tones were to come through.
Capital Florist beautifully put the floral design together just as Jenny had envisioned. The use of crystal candelabras and candlestick holders provided the perfect canvas to feature blue coloured tapered candles.
Table linens can have a big impact on the overall look and they were spoiled for choice with all the gorgeous linens from Groovey Linens. Jenny fell in love with their new lace range and loved how it looked on the table. The name cards for each place setting were effortlessly calligraphed by Lettered-It.
While using glass and crystal throughout the center of the table to offset the gorgeous florals and candles, adding accents of gold to the décor felt very lavish and added warmth.
To do this, Jenny used the unique Gold Fanfare chairs from Creative Edge Studio and her glass gold-rimmed charger plates with luxurious gold cutlery, which all looked stunning together.
When finalizing the design, Jenny knew they needed one extra touch to complete the entire set-up and Royal Cakes by Sandra came to mind for this. The cakes are pure perfection. Sandra's flawless cakes would be the ideal addition and exactly what was needed to complete their design.
It was important that the décor be elegant, luxurious and breathtaking. Jenny was so pleased with how it all came together. The images captured by Phillipa are immaculate, with every element caught exactly how they had intended the overall look to be viewed.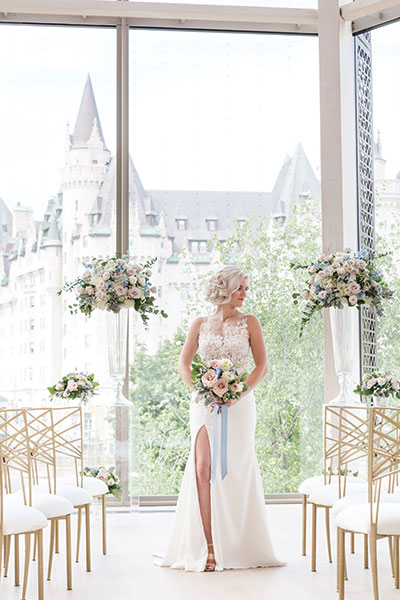 Phillipa Maitland is extremely passionate and committed to her craft of storytelling. She has documented weddings in the Ottawa area and internationally for 10 years.
She has a studio in Russell where she meets with couples and has built up a team of experienced assistant photographers. Published internationally for Real Weddings, Phillipa takes great pleasure in planning and executing editorial projects for publication as a means of indulging in yet another creative outlet.
Jenny Saily owns Lavish Events, a full-service custom design and décor company specializing in weddings and events.
It has an extensive, international portfolio of only the very best in décor design and production. Lavish Events' delivers each event from concept to creation: providing luxurious custom designs for any event, boasting an impressive inventory of carefully selected and sourced décor.