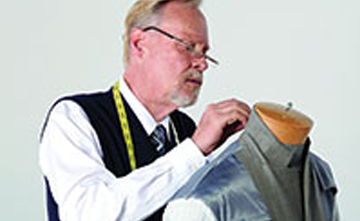 As fashion becomes more daring this spring and business suits get slimmer, men are challenged with finding the perfect style and fit for their body. Just because something is in style doesn't mean it is for everyone. With that said, you can still dress stylishly when you know what works for your body shape. Most of the time it comes down to tailoring, as very few off-the-rack purchases fit everyone perfectly. Tailoring is what gives you the desired look, without looking like your suit has been painted on, or is falling off. Keep in mind that tailoring has its limits. Adjustments should be your way of fine-tuning a suit to compliment your shape, not changing its shape. Here is some helpful advice on what to look for in a suit:
The Style: Finding the right fit starts with finding the perfect style for your body. For a traditional look, try a classic fit – typically a good option for most body types, it offers wider cut shoulders and provides extra room through the chest and back. If you're looking for a more contemporary fit, try what we call the modern cut, which combines slim styling with classic comfort, and is typically narrower in the shoulders and trousers than a classic fit. The slim fit suit is best suited for men who are looking for a modern, trimmed-down fit, as they feature narrow shoulders, higher button stance and higher armholes with slim sleeves, ideal for those with a slimmer build.
The Trouser Break: The horizontal dimple on your trouser cuff should ideally rest on the top of your shoe without pooling on the shoe.
The Jacket Sleeve: Try to have at least half an inch of shirt cuff visible at the base of your wrist, making sure that your jacket does not rise above the shirt seam.
The Jacket Length: A well fitted suit jacket will fall just past your waist. You can measure this by making sure your jacket hem hits right around the middle of your hand. An extra-long jacket will give the illusion of being shorter, something no man wants.
The Jacket Collar: The collar should rest against your shirt collar without any significant gaps between. Remember, you should wear your suit, not the other way around. Sacrificing fit for fashion doesn't work. It's important to dress your body so you will always be in style.
Joseph Abboud is chief creative director of Men's Wearhouse, parent company of Moores Clothing for Men, Canada's leading national retailer of men's business attire and tuxedo rentals, with more than 125 stores nationwide.
www.newscanada.com