By Rev. Alan Viau
The Ottawa Wedding Awards recognizes the leaders in the industry who have demonstrated the very best creativity, imagination, and service throughout the year. As voted upon by their peers and those whose lives they have touched, the winners in each category will be selected because they have taken their business to the highest level. With your vote, the companies that have established themselves as the best in the city will be determined.
A notice came out recently that Brian Henry, President and Co-Owner of Quality Entertainment, was announcing a big event – one that has never happened in Ottawa. The Ottawa Wedding Awards were launched in collaboration with Ottawa Wedding Magazine and Ottawa Conference and Event Centre.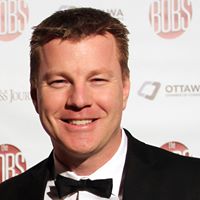 I asked Brian why he started the awards.
"It is an opportunity for couples to recognize those vendors that made their day special – a way of saying thank you. The best vendors make a big difference in people's lives and we need to appreciate that as a community and an industry."
In addition, Brian hopes to promote a forum for vendors to socialize and network so that as a collective we can improve the business we are in and generate ideas for the future. Brian is a tireless, positive influence on the Ottawa wedding scene. He never misses a social or business event.
About 100 vendors were nominated for the awards. Vendor voting started April 22 and ends May 13. So far there have been over 5,000 votes cast with many categories in tight contention. So now is your chance to make a difference by voting for those who made a difference in your wedding.  The system permits only one vote per IP address to minimize multiple duplicate entries.
The Ottawa Wedding Awards also announced its highest award,  Wedding of the Year, which will be judged by a panel of industry experts. Submissions will be accepted until May 9th at 12pm. Every individual submitting their wedding must be in attendance on the awards night. The winning wedding will be featured in Ottawa Wedding Magazine.
On May 28th, 2014 at the Ottawa Conference and Event Centre, all the winning vendors will be announced. As a supporter of this event, I will be there at the door greeting attendees. This is an exciting time for the Ottawa wedding scene, one that can plant seeds for a vibrant future.