Hometown Touchdown
Compiled by Ariel Vered and Photos by Marc Lavoie
Tammy, founder of Laverty Designs Inc. and an agent with Royal Lepage Team Realty, is the daughter of the late Ed Laverty, Ottawa Sports Hall of Famer and touch football pioneer in the Ottawa sports community.
Sean, a defensive backs coach, played for the University of Ottawa Gee-Gees, the Ottawa Sooners and in Ed's Ottawa Nepean Touch Football League. Sean cancelled their first date because of recruiting.
"I told him to land a good defensive back," remembers Tammy. "He said, 'That's the sexiest thing any girl has ever said to me.'"
They felt an instant connection on their first date in November 2015: "We talked for seven hours," says Tammy. In October 2016, Sean suggested they grab a bite at Joey's at Lansdowne, where they had their first date.
He led Tammy up the grassy knoll at TD Place and, while a scrimmage took place on the field, asked Tammy to marry him. She shouted, "I'm engaged!" to the cheers of the players.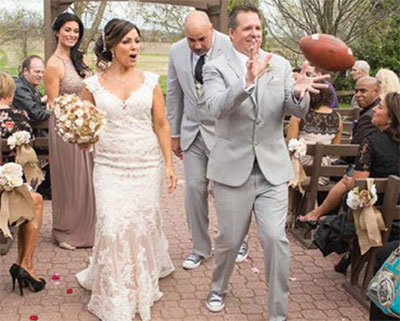 "It's exactly what I wanted," she said. "It couldn't have been a more fitting location."
For her dress, Tammy took her mother, future mother-in-law and three close girlfriends to Alliance Bridal in Moose Creek, where she fell in love with a champagne lace Allure Bridals dress.
"It was the first one I tried on," she said of the romantic flowy sheath with a vintage vibe. Strathmere offered what they both wanted in a wedding venue. Tammy took a hands-on approach to creating the vibe with romantic, rustic and vintage decor.
She incorporated wooden plates and mason jars, rented antique pieces like a wire bird cage, and had a friend design the table assignments hanging from clothespins.
The custom cake from Mama Shell's Cakes fit with the theme: tree bark carved with a heart and their initials and an arrow through it. Football played a prominent role in the wedding.
Sean coaxed Tammy's father, whose Alzheimer's made his behaviour unpredictable, to walk Tammy down the aisle with the football. After being pronounced husband and wife, someone threw the football to the couple as they walked up the aisle.
It was incredibly meaningful to have Ed participate in the special day. Tammy danced with her father to his favourite Roch Voisine song, I'll Always Be There, while a montage of photos played behind them. For the couple's first dance, they did a fun choreographed routine to a Chris Stapleton/Justin Timberlake mashup.
The wedding featured delicious food, including a late-night snack of four different flavours of mini Beavertails set up by Tammy's friend, the owner of Beavertails.
At every seat, guests got mason jars of a homemade BBQ-bourbon sauce called Sean and Tammy's Touchdown Sauce with custom notes. Tammy and Sean took the time to truly appreciate seeing their best friends celebrating as if they'd all known each other their whole lives.
"It was a beautiful wedding with all of the things that every girl dreams of," says Tammy.
"As you get older and go through challenges, the wedding becomes so much more about family and sharing with the people you love. Even more important and special is that through sadness and loss, we can look back and feel so grateful that we had that day."