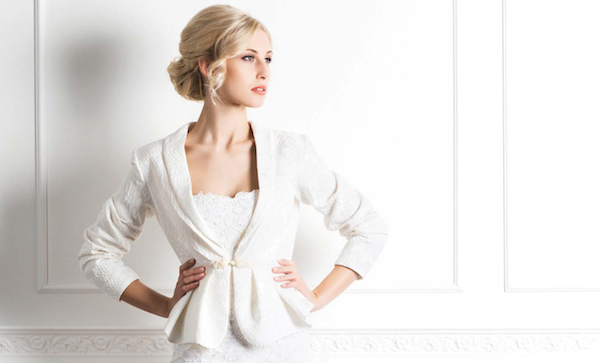 Some brides are opting for an extra fashionable layer this season to top off their wedding day style. Toppers come in all colours, shapes and sizes and are excellent additions to complete the look. We're breaking down the lingo and sharing a few of our faves.
Capelet
A capelet is essentially a miniature version of a cape. If you love the look of a cape, but find the full-length to be a little too dramatic, then a capelet is the perfect alternative. Intricate beading, sheer shoulders and floral patterns are all beautiful designs for this classy coverup.
Bolero
A bolero can be compared to a women's crop jacket, which usually covers the upper torso, shoulders and part, or all, of the arms. Similar to a capelet, the bolero comes in several styles and fabrics, including lace, faux fur and silk.
Bomber jacket
We're loving this streetwear turned bridal style. A bomber jacket is perfect for the ultra-chic bride looking for a bit of edge on the big day. Whether you're rocking a full- length gown or shorter cocktail design, a bomber jacket will take your look to the next level.
Pashmina scarf or wrap
A pashmina is a fine type of cashmere wool. Due to its size, it can act as a simple scarf or a full-coverage wrap for cooler nights. Unlike a bolero or jacket, a wrap does not offer the same structure and has a looser fit.