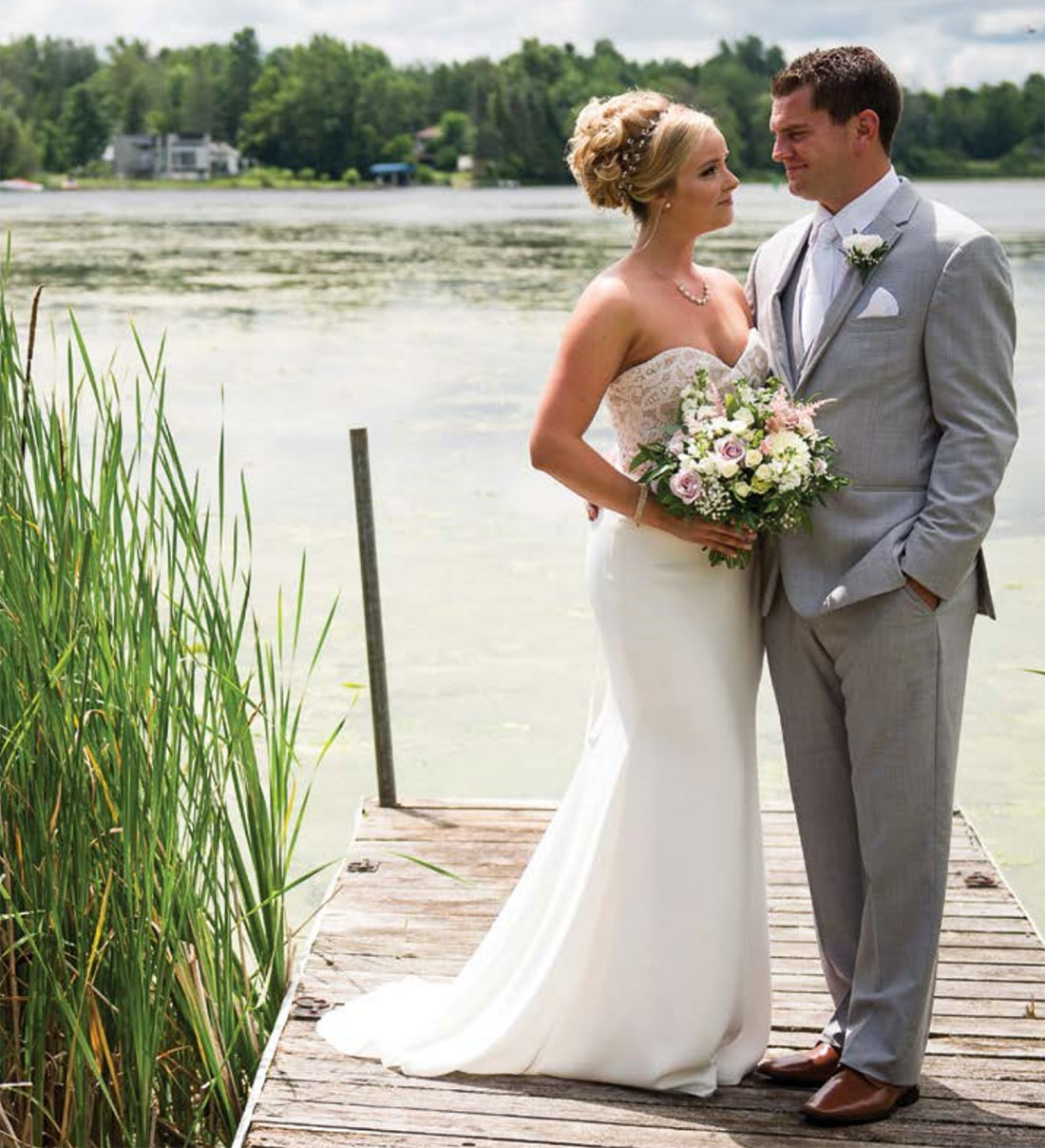 All-in Love
Compiled by Ariel Vered and Photos by Jemman Photography
Taylor and Caz met as teenagers at a hockey party. After hanging out at social gatherings and movie dates, "next thing I know, we're together," remembers Taylor.
Caz proposed January 2016 when the couple was puttering around their house one night. He asked Taylor to grab him a towel from the drawer. She found a jewellery box in the drawer and, thinking it was a graduation gift for recently completing an OR course, Taylor was surprised to find it empty. When she turned around, a tearyeyed Caz was holding the ring.
"He said, 'I couldn't wait any longer, I couldn't keep the secret any longer.' It was so Caz," she says.
They chose The New Rideau as their wedding venue. They wanted to get married in the summer on the Rideau River because the outdoors holds a special place for the couple, who have spent much of their relationship doing activities like boating, canoeing and mountain biking.
They even took wedding photos in the forest on a swing they themselves had built: "We had a lot of fun in this forest as our relationship grew." As a country girl who owns more rubber boots than heels, Taylor didn't want a wedding dress that was too over the top. "Caz knows me as a jeans and t-shirt girl," she says.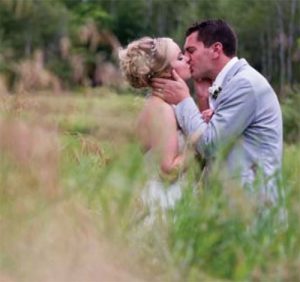 "I didn't want to not look like the girl he fell in love with." But when she went to Norde Bridal, she found a handmade Truvelle Bridal dress with a delicate belt — exactly what she had thought she didn't want!
"It fit like a glove and I felt pretty in it," she says. "It felt elegant and classic." The couple did their first look down by the water. Taylor came down the walkway to where Caz was standing at the end of the dock.
"We looked at each other and went, 'Is this really happening?!'" The couple shared a mimosa and some laughs as they took their wedding photos prior to the ceremony.
"We just had fun, laughing and teasing each other," she says. The theme for the wedding was rustic glam. Taylor worked with Custom Wedding Events, which took the headache out of the wedding planning.
She also did a lot of DIY decor herself, creating a head table backdrop with hanging flowers and tulle and incorporating thoughtful touches including burlap table runners, wine bottle centerpieces wrapped in twine and tree stumps from their backyard covered with little tablecloths.
The reception venue, which resembles a greenhouse, didn't need a lot of decoration to capture Taylor's vision. "Because it was open and glass, you could see the outdoors and the sun," she said.
"You could see the trees above you." The reception was a laid-back and fun time for everyone. There was a kissing menu, which was a good transition from the emotion of the ceremony into the fun of the party.
A firepit outside allowed guests to mingle by the fire — Taylor even created mini-smores packages tied with twine for guests to roast marshmallows.
"It was like people were coming camping and they could come inside and dance," she says. All in all, it was a memorable day. "It was a gorgeous day and a fun night," remembers Taylor. "It felt like a fairy tale."