You are deciding on an engagement diamond ring for your love. Men, it is more important to look beyond the traditional technical 4 C's and choose with your heart.
A quick look in Google trends confirms what every jeweler knows. The time from beginning of November through end of December is the most popular for engagements. Diamonds persist as the all time favorite for engagement rings.
I was surprised to discover that about 50% of buyers are men who surprise their chosen mate with a ring. We seem to cling to the romantic notion of proposing in grand style by presenting the love of your life with a timeless symbol. In its presentation, we hope that she will say "Yes!" … and like the ring.
Men have a daunting task in learning what's important in choosing a diamond engagement ring. With a problem to solve we approach it with our technical mastery. We start looking at the traditional 4C's of diamonds that everyone quotes; Clarity, Color, Cut and Carat.
It can be confusing to try and weigh these factors. I turned to Pierre Soucy, gemologist, from Bijouterie Robert Richer in Montreal for advice on what's important in choosing a diamond engagement ring that goes beyond the 4 C's.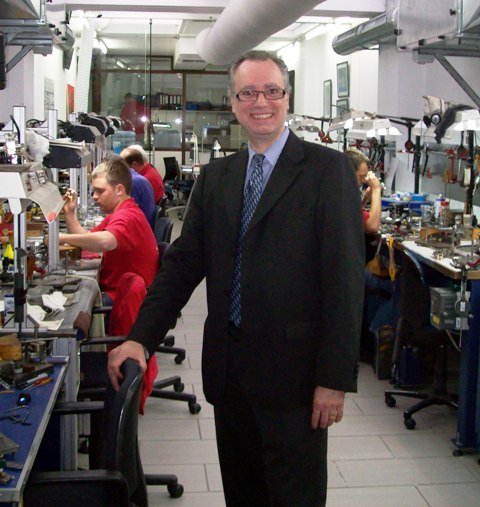 Pierre says that people still favor the round brilliant cut diamond in a one carat size. There is a trend towards  fancy cuts like princess and cushion cuts, and increasingly colored diamonds such as blues, champagnes, yellows.
However, Pierre stresses that there there are four other C's that you can consider in making your choice. They may be more important than the traditional technical 4 C's.
Cash. There is a lot of hype about how much you should spend on an engagement ring. It is all marketing to make you spend as much as you can. Pierre's advice is to buy what you can afford as long as you love the ring. You can always upgrade at a later date. Pierre urges that "there is no shame in having a smaller stone, it should be all about finding balance."
Conflict. There are many misconceptions about conflict diamonds known as 'blood' diamonds. Since early 2000's, all diamond exporting countries, including Canada, signed on to the Kimberley Agreement which aims to prevent conflict diamonds from entering the market. Despite not being perfect, most diamonds are not from conflict regions. Diamonds from Australia, Russia, and many African countries are compliant with world standards, and ethically clean. Your jeweler should know where the diamonds originated.
Canada. Canadian diamonds are among the best quality in the world. Canada, as a new player in the world diamond supply chain, established the strictest environmental and work regulations in regards to diamond mining and trading. Canadian diamonds are traceable to the individual stone which insures its origin.
Charm. Buying a diamond ring is something that comes from the heart. Pierre says you need to ask yourself the question, "Am I comfortable living with this diamond moving forward in my life?" The primary pleasure of looking at a diamond ring is the feel good emotions … an expression everlasting love and unity. It is about finding a stone and ring that suits your sense of style and makes your heart flutter. Being charmed by a ring is perhaps the most important quality because it demonstrates the feelings you have for your love.
In shopping for your diamond engagement ring, put aside the technical aspects of the stone and search for the pleasure that is derived from it. The traditional 4 C's is a a grading system developed as a trade language that would be common within the industry.  The new 4 C's focus on personal values and what it means for your life.