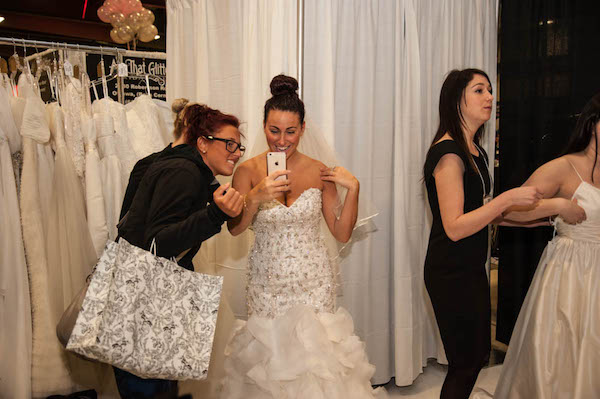 Are you excited? We are. The Ottawa Wedding Show is this weekend – Saturday, October 21, and Sunday, October 22 – at the EY Centre, 4899 Uplands Drive.
Ooooh la la. So much to see. So many experts to meet. So many possibilities. Check em out! The show runs from 11 a.m. to 5 p.m. daily.
You can actually shop for THE dress, since there are pop-up bridal boutiques featuring gorgeous wedding gowns, veils, accessories, jewellery, and dresses for the bridal party.
In the Reception Room, you can sip a Cosmopolitan, enjoy live entertainment and, at noon, 1:30 and 3 p.m., find out from an industry expert about bridal fashion trends for 2018. You can also play the Date Night Game and find out how much you truly know about each other. Each couple that participates will receive a $50 gift card from ALE – Amberwood Lounge & Eatery.
Sample products, enjoy a hand massage, and treat yourself to a skin care consultation or a mini makeover at the Beauty Bar.
You'll also be excited to see the decor feature areas showcasing eye-catching looks and unlimited possibilities. Here you can talk to pros with the expertise and experience to transform your vision into a fabulous, unforgettable occasion.
As for the exhibitors who'll be on site, they run the gamut from stationery and invitation companies to caterers, florists, photographers, honeymoon destinations and entertainment providers.
"You may not want to go with those specific vendors, but deciding what you don't want is just as important as deciding what you do want," Genevieve Pelletier notes. "An added bonus is being able to meet the people you will work with in person. You may love a photographer online, but if your personalities don't match you might not get the best pictures possible. So grab your favourite ladies and gents, and head out to the next one. You will meet some great vendors, learn new ideas, and just have a great day. Also, unlike your colleagues, and friends, no one here is tired of hearing about your wedding; they are actually eager to discuss it. So talk, talk away."
Note: images courtesy of the Ottawa Wedding Show.