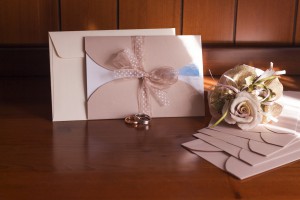 Designing your wedding invitations is one of the first things you'll do when you start the planning process. With so many different styles, colour combinations and themes available, it's easy to create a one-of-a-kind look that will have all of your guests raving!
Wedding theme
The type of wedding you want is one of the first steps in deciding which invitation style best suits you. Formal or informal? Colourful and sassy or classic and sophisticated?
Your wedding date can play an important role in deciding the overall look of your invitation. A winter wedding can evoke images of delicate snowflakes, Christmas trees and mistletoe; while a summer wedding allows the use of flower blossoms, seashells and sailboats. Autumn weddings can showcase silhouettes of leaves, acorns and pumpkins, while springtime celebrations include images of tulips, daffodils, baby birds and Easter bunnies. While these are just a start, it's easy to see how much fun designing your invitation can be when adding a personal theme.
Colour combinations
Your colour palette is one of the most defining elements of your wedding, and careful thought should be placed into what colours you want to use to symbolize your special day. Since your invitation is how you announce and share your wedding details with your guests, the use of colour creates the perfect opportunity to set the tone of your wedding. Deciding which colours to use may be an easy decision for some, but for many, this presents a more challenging task. Do you favour bold, rich colours, or are you more comfortable with a monochromatic scheme? Colour is a powerful element that can set the stage for a grand, dramatic wedding, or a more casual outdoor gathering among close family and friends.
Combos for Wedding Invitations
Here are a few proven and effective colour combinations to help get you started:
Pink and chocolate brown
• Pink and grey
• Lavender and chocolate brown • Lavender and yellow
• Fuchsia and orange
• Turquoise and white
• Turquoise and red
• Black and gold
• Black and white
Colours such as black, white, grey and brown can be considered neutral colours that are a great base to any colour scheme. For added depth, pair one of these neutrals with an accent colour such as pink, blue, or green. This personalized colour palette can be carried throughout your entire wedding. For an unconventional approach, combine two equally strong colours such as pink and orange, or turquoise and red, to create a more dramatic and playful palette, something that is becoming common among less traditional weddings.
Designing your invitations should be a fun experience that allows you to showcase the personalities of you and your partner, and creates a sense of excitement for your upcoming nuptials. Your invitation is meant to be a preview of the beautiful day you have planned. While many companies offer ready-made invitation designs, feel free to add your own unique style, and if you have something special in mind, be sure to look for a designer that will cater to your ideas. After all, your invitation marks a very special day in your lives, and no two weddings are alike. W
Compiled by R. Legault.