In chic Yorkville, there exists a bridal couture store that honors romance and elegance.  On a cold day in January, I trudged up to the shop door and rang the doorbell. I was warmly welcomed as an old friend by Sarah and Courtney who make up Sarah Houston Bridal Couture.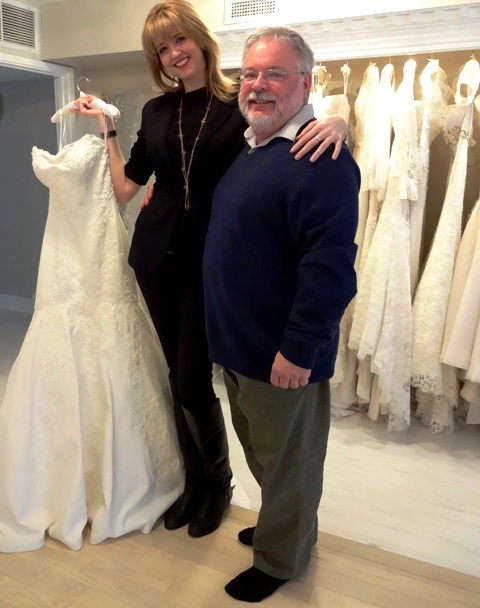 Courtney showing me their most popular lace dress
Their store is beautifully designed to help a bride choose the dress of their dreams. Only one bride is ever served at any time, guaranteeing the utmost in privacy, service and attention to detail. There is a simulated aisle runway on the second floor so that a bride can see how her dress flows when she walks to meet her groom on their wedding day.
Sarah Houston distinguishes herself by individually crafting each wedding gown to tell its own unique story of love, beauty and romance. With over 80 original designs – from flirty to sensuous to classically elegant – there is a wedding dress for any bride's personality and style.
I was immediate struck with the combination of  lush satin crepes with silk chiffons and organzas. Every gown I examined was beautifully tailored with meticulous attention to detail. Her bridal gowns are made of the highest quality silks and are cut precisely to fit and flatter a bride's form.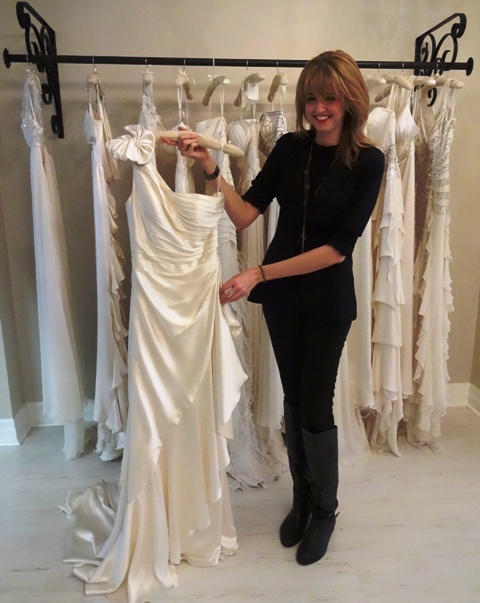 This is one of the more popular contemporary designs.
Sarah is meticulous and persistent with every design concept to ensure it meets her vision. One dress took 24 designs before it looked the way she imagined it to be.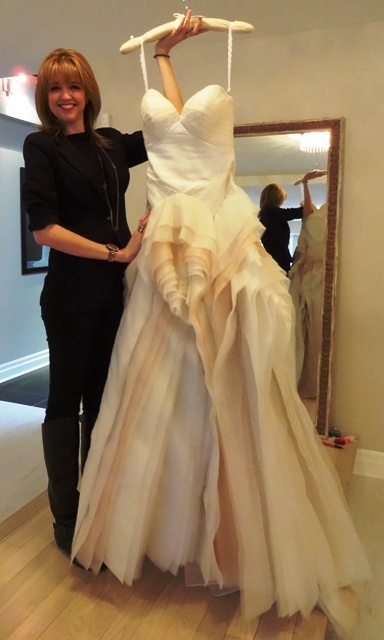 The organza on this dress is stunning
As I've learned from my wonderful costume designer wife, foundation garments are essential to a good fit, form and look. Sarah can incorporate a corset in the dress or have them separately fitted for the bride.
A dress under construction with a custom fitted corset
Sarah Houston Couture Bridal moved into their current store location about three years ago to keep up with demand. Their dresses are distributed through a select number of stores elsewhere. If you want to see how these beautiful gowns look in real weddings, visit their blog which photos submitted by the brides.
We chitchatted for an hour about dresses and the bridal industry. With warm goodbyes, I reluctantly left the three of them to drive back home to Ottawa – knowing how gorgeous the brides will be who select a Sarah Houston dress for their special day.