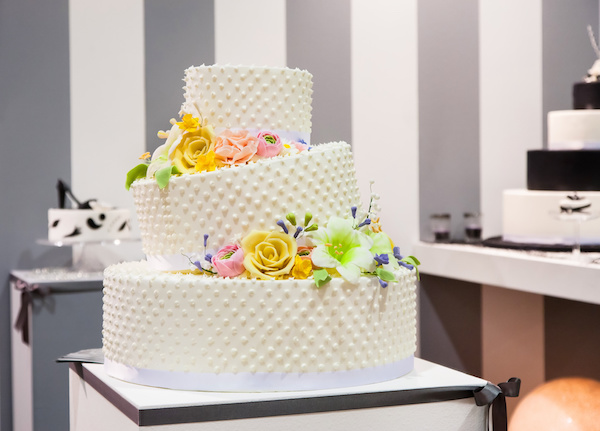 Wondering what to do for dessert at your wedding? Cupcakes? Cake pops? A dessert table? Or will you go with classic wedding cake? This story, which first appeared in the winter 2014 issue of Ottawa Wedding, will give you an idea of how the tradition of wedding cake got its start.
The History of the Wedding Cake
In Ancient Roman times, the groom would eat a piece of a barley loaf and break a piece over his bride's head. (This was believed to foreshadow the breaking of the bride's hymen on the wedding night.)
In medieval England, flour-based sweet foods appeared at many feasts, but there are no accounts of wedding cakes as we know them today. One custom was to stack sweet buns in front of the newlyweds. When they attempted to kiss over the bun tower, their success before toppling the tower symbolized the number of children they would have. (The stack of buns was the forerunner of the French tradition of the croquembouche.)
In the mid-17th century, a bride's pie was served at weddings. It might be sweet or it could be a meat – often mutton – dish.
By the early 19th century, the tradition had evolved into including a glass ring in the pie. The belief was that the maiden who found the ring would be the next to marry. (This tradition eventually gave way to the bride tossing her bouquet over her head towards the unmarried women. The maiden who caught the bouquet was expected to be the next bride.)
In the late 19th century, the wedding cake took over from the bride's pie. Originally called a bride cake, it emphasized that the bride was the focal point of the wedding.
The early cakes were simple single-tiered plum or fruit cakes. (Possibly, this was an oblique wish for the bride to be fruitful.) Most cakes were iced in white, to symbolize the bride's purity.
Only wealthier families could afford refined, white sugar in the 19th century. Therefore, pure white frosting indicated wealth and social status. After Queen Victoria and Prince Albert used white icing on their cake, it was called royal icing.
The modern wedding cake originated at the wedding of Prince Leopold, Duke of Albany, in 1882.
Topping wedding cakes with the figures of the bride and groom first became popular in the 20th century. Recently, personalized cake toppers from squirrels exchanging nuts to bikers or models of the couple's pets have become popular.
As weddings grew more elaborate, so did cakes. Multi- tiered creations, with pillars separating the tiers, became the norm. (In the interests of economy, in some cases, only the top tier, which the couple cut at the reception, was edible.)
Traditionally, wedding cakes were intended to bring good luck to the bride and groom and all their guests. More recently, they have been viewed as the centrepiece at the wedding reception.