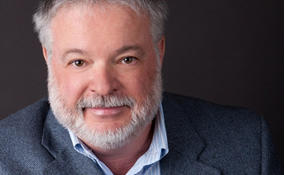 By Rev. Alan Viau
Men are now choosing to wear a suit instead of a tuxedo for their wedding. Over the 10 years that I've officiated weddings, I've seen the suit trend growing. What really makes the look of the suit for the groom is the choice of accompanying tie.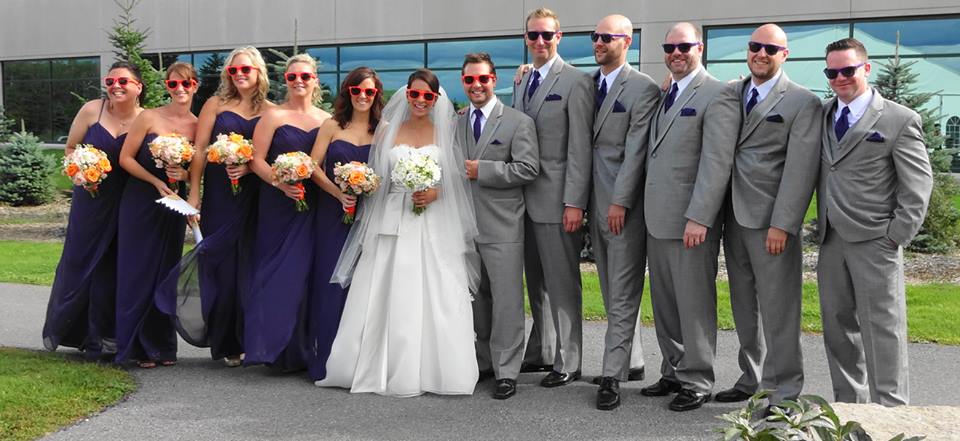 The purple of the ties, pocket squares and glasses match the dresses. The girls' orange glasses and flowers match the guys' socks.
I was at the Ottawa Wedding Show where menswear vendors were displaying their fashions for grooms. Both had tuxedo rentals. However, the folks at Tip Top Tailors told me that an overwhelming number of grooms are choosing to buy a nice suit for their wedding.
Unlike 30 years ago when I started working and needed a suit every day, today's workplace is more casual. Buying a suit is now for a special occassion. Today's groom will shop and buy a suit that he can wear to his wedding and then can wear any other time. He can treat himself to something really nice.
Men tend to buy a dark charcoal suit for a fall or winter wedding. A lighter gray suit is preferred for a spring or summer wedding. Either choice is fabulous to have for any dressy event you'd like to attend after your big day.
Important for accessorizing your wedding suit are the right tie and pocket squares. You will want to choose a solid color option, not multicolored stripes or dots. For you wedding, a solid color tie and pocket square look more dressy and formal. There are so many colors available that you can match the color of your tie with your bride's wedding colors if you wish. For example, if you look at Beau Ties Ltd selection, you can see that they have a great selection of solid colors.
And if you want a little more formal look still, you can go for a solid color bow-tie with matching cummerbund.
There are also stunning black ties and bow-ties available if you wanted to keep the traditional look with your suit.
So come on guys, get out there and splurge a little on yourself. Get a great looking and fitting suit with a splash of color to make you look dashing on your wedding day!