Can't Go Wrong with the Classics!
It can be hard to keep up with what's hot and what's not. But there are certain items that simply never go out of style. Here's a look at seven classic wedding choices that will never fail for your wedding day.

Black tie
There's something timeless about men dressed in tuxes and women in their best gowns. Formal attire gives your wedding an elegant feel and makes for amazing photographs.
White dress
After Queen Victoria donned a white wedding gown in 1840, she was dubbed the ultimate trendsetter for millions of future brides, says Danielle Rothweiler of Rothweiler Event Design. "Wedding gowns have changed since then, and now they are available in a wide array of colours, including red, pink and even black." But the classic white gown will likely always reign supreme.
Lace
Lace never goes out of style, says Carissa of Cakes by Carissa. From incorporating lace-stamped fondant or lace appliqués into your wedding cake, to wearing a lace wedding gown, there are plenty of ways to make lace a part of your day.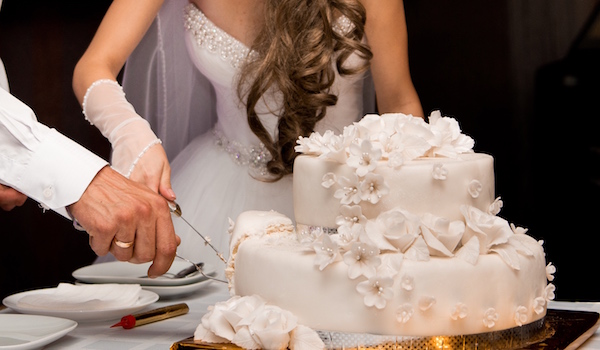 A white wedding cake
Dessert trends come and go, as cupcakes, pies and candy buffets have all made the rounds in popularity. But there is something stunning about a classic white wedding cake taking centre stage at a reception. A white-tiered beauty is a great contrast to your colours du jour, and will stand tall as a work of art to wow your guests.
Long head tables
Long rectangular tables not only make figuring out seating a much easier endeavour, but they also make for a cozier, more intimate feel. Whether your reception is indoors or outside, whether your centrepieces are low or high, long tables are always a good look.
Peonies
While they might not last forever, a wedding simply isn't complete without beautiful flowers. These lush blooms can transform any ceremony and reception area. And with the overwhelming variety of colours, you can choose the bloom that fits perfectly with your wedding hues.
Personalization
Adding personal touches to your wedding (from monograms and favours to cake toppers and table names) make your day truly unique. W