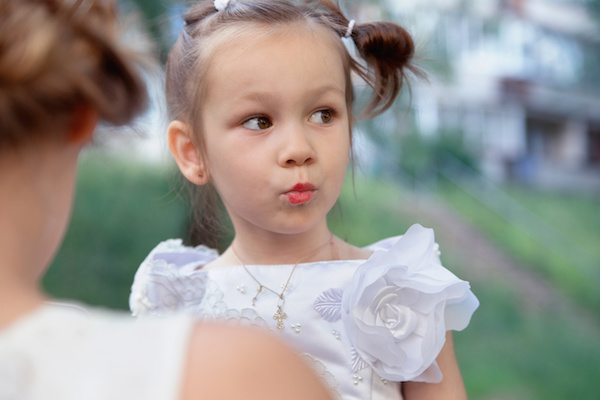 Prince William and Princess Kate did it. So did Kate Moss, Brooke Burke and Lily Allen. But it's not just royals and celebrities who choose to include youngsters in their wedding parties. Plenty of brides and grooms opt to have flower girls, ring bearers, and/or junior bridesmaids and junior groomsmen.
After all, younger siblings, cousins, relatives and special friends often play important roles in family life, so naturally you want them to be part of your big day. Certainly, if you already have children, you're apt to include them in this life-changing special occasion.
However, it's wise to think carefully before you plan for little ones to take on big roles. Yes, teeny tiny attendants are totally adorable in formalwear. But no, they don't have the poise, social skills, patience or stamina of adults. That means you have to be sure your beloved boys and girls are willing, able and ready to walk down the aisle or serve in another high-profile capacity.
For one thing, a lot of wedding ceremonies hosted at places of worship happen smack-dab in the middle of the afternoon–otherwise known as naptime. Some wee ones need their midday sleep. Without it, they can't function– and adults shouldn't expect them to.
If you've been to a wedding or 12 as a guest, you've probably experienced the spectacle that is the young child who is beyond her or his ability to cope. Oh, the wailing and fussing. (And that's just the mother trying to settle the child down.) When that child is supposed to  walk down the aisle to toss rose petals or carry a ring perched in a pillow, one or two things usually happen:
1. The little one refuses to cooperate or backs out due to a fit of shyness. That's fine. The show goes on without a blip.
2. Sometimes dad or mom wind up carrying Junior or Missy down the aisle while serving as a standin for petal-tossing duties. This usually elicits plenty of smiles and laughter from the guests.
3. Other times the little one is able to rally, and winds up executing his or her duties with aplomb.
In any case, if you're easygoing and not focused on perfection, a flawless outcome doesn't matter so much. On the other hand, if your heart is set on glamour and formality, it's best to nix plans for little attendants. There are other ways to include them and make them feel special.