For many of us who live with eczema, shopping for skincare products is not as easy as it sounds. Sometimes this task delivers the vast difference between clear skin – and a harsh flare-up.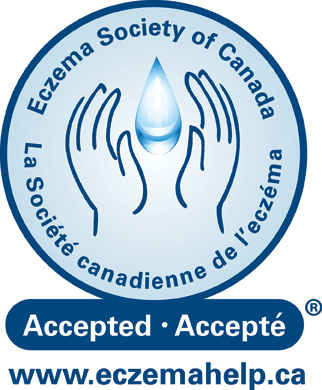 Finding and using the right moisturizers and cleansers are a critical part of managing eczema, a chronic skin condition that is characterized by red, itchy and dry skin. A common complaint from eczema sufferers is the struggle to find the right products from the overwhelming number of choices available in the marketplace.
To help, the Eczema Society of Canada (ESC) developed the "Seal of Acceptance" program as a way to empower and educate eczema sufferers when shopping for products.
"Frequent moisturizing is one of the most important steps someone can take when working to manage their eczema," says Amanda Cresswell-Mellville, Executive Director of the Eczema Society of Canada. "The Seal of Acceptance program is our answer to parents and sufferers who struggle to find the right products for their sensitive skin."
All products with the Seal are free from known irritants, and are safe for sensitive skin, she points out. More importantly, they undergo rigorous review by dermatologists, where ingredients and formulation concentrations, as well as clinical data, are analyzed.
"Eczema sufferers can trust the products that carry this seal are suitable choices for their skin," Cresswell-Melville continues. "We deeply understand the trials and tribulations of finding the right product, so we work closely with our advisors, which includes leading Canadian dermatologists, and only products that fall under our rigorous criteria are accepted."
A full list of approved products can be found on the Eczema Society of Canada's website at www.eczemahelp.ca.
www.newscanada.com
Dear
Incorporating her signature influences of the Art Deco, Orientalism and French Bohemian eras combined with her renowned levels of craftsmanship and luxurious materials, this collection is focused on delicate embellishment with an ethereal and whimsical feel.
Using the finest French Chantilly lace and luxurious Duchess satins, unique hand embroidery, lustrous freshwater pearls and sparkling Swarovski crystals embellish a collection of soft balletic accessories from delicate headdresses to waist cinching belts, opulent bracelets and pretty shoe clips.
Handmade silk blossom flowers are embellished with Swarovski crystals and cascade over shoes, silk belts, bracelets and hairpins.  Mother of pearl flower and gleaming seed pearls are hand embroidered onto Chantilly lace sourced from the finest Parisian couture lace makers.
A multitude of industry awards from the most reputable publications are representative of the caliber of Freya Rose's timeless designs and her ever-growing popularity amongst press and world-renowned stores including Browns Bride, Alice Temperley and Philippa Lepley.

'Darling'                                                                         'Penelope'  
By Freya Rose                                                              By Freya Rose
If you would like further images please contact us on press@freyarose.com. We also have a image library you can have access to by logging in to http://www.weddingshoeslondon.com/freya-rose-press-pack/

Please don't hesitate to contact us if you require anything else or wish to discuss further.
Best Wishes,
Freya Rose x
EMAIL   //   TWITTER   //   FACEBOOK   //   PINTEREST   //   INSTAGRAM

Editors Notes:
Award winning brand Freya Rose is a UK based company based in Islington, London.

Awards won include: 1st place in the Tahitian pearl awards 2008.

The brand specializes in Bridal and RTW shoes and accessories collection and bespoke embellishments.

The brand offers a customized and bespoke service

  Freya is available for interviews and comment about her latest collection and her highly personal designs and service.

A 2003 first class honors graduate from the London College of Fashion,

Premium stores such as 'Browns Bride' sell Freya Rose designs.
Copyright © 2014 Freya Rose, All rights reserved.
A fashion contact
Our mailing address is:
Freya Rose
Unit 111E
Business Design Centre
London, Eng N1 0QH
United Kingdom