The Top 9 Reasons Why You Should Hire a Wedding Planner (And Why She is Basically Your New Best Friend)
By Anastasia Marie, CEO and Creative Director of Anastasia Marie Wedding and Lifestyle PR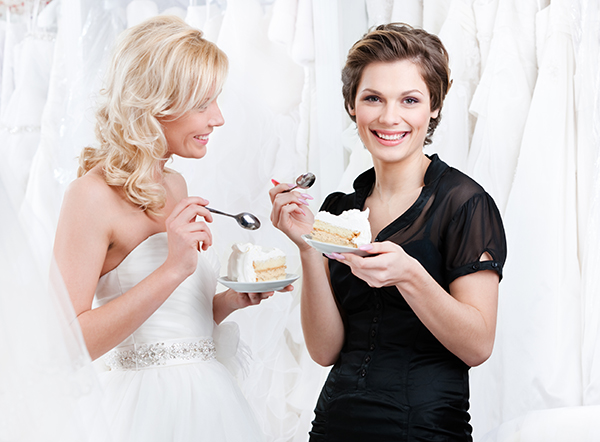 Think that wedding planners are reserved for the privilege few? WRONG! For today's modern couples set to tie the knot, wedding planners have become a vital part of the wedding planning process. Full-time jobs, school, children and the overall hectic pace of our lives today has made wedding planning a stressful venture for many couples who  simply do not have the time to invest in full-time planning.
Today, wedding planners are seen as an investment in wedding planning sanity. Here are a few reasons why wedding planners have become a "go-to" vendor, and why your wedding planner will basically become your new best friend!
1.     She wants you to have the perfect day
Let's be honest, there are only so many times that you can bring up your love of marsala with your best friend, before she starts to question your sanity. Luckily, your wedding planner totally gets your obsession, and even encourages it! A wedding planner put your needs first. After all, it's her full-time job to make your dreams a reality. With a wedding planner, every last wedding detail is taken care of. From finding a ceremony and reception venue, to signing your wedding vendors and finding the perfect shade of crimson lipstick, your wedding planner has your back like no other. A wedding planner is only happy if you're happy. Your perfect day is her perfect day.
2.     She is tough when it comes to staying on budget
Weddings can be expensive. Unfortunately, with so many beautiful wedding options out there, it's all too easy to say "bye-bye" to a budget, no matter how strict you are with your finances. A wedding planner makes budgeting a breeze. Contractually obligated to stay under a certain price point that you have set out in advance, your wedding planner will have a much easier time saying "no way" to that pair of Louboutins than you will. What's more, your wedding planner's knowledge of the wedding industry and its vendors will allow her to have more negotiating power when it comes to wedding vendor price lists, and who doesn't like a deal?
3.     She is great at settling family drama
No wedding is complete without a little bit of family drama. All families are different, and whether it's your crazy uncle or your sister-in-law who is bound to be late, your wedding planner has the ability to deal with interruptions, rowdy guests and late-comers so that you can concentrate on getting married. Your wedding planner's ability to create a smooth, seamless and stress-free family occasion is paramount in making sure that your wedding memories are positive ones.
4.     She takes the stress out of wedding planning
Wedding planning is a stressful venture. Financial pressure, guest lists, vendor negotiations, and all of the nuptial celebrations in between, can have a negative impact on couples. Hiring a wedding planner allows you to keep stress to a minimum. No matter what stage of the wedding planning process you are in, a wedding planner has the ability to take on some, or all, of the wedding coordination and planning so that you can concentrate on what matters most, the love you have for your partner.
5.     She knows which wedding vendors to trust – and which ones to avoid
Not all wedding vendors are created equal. While most have the best intentions, some are just bad eggs. A good wedding planner works closely with local vendors and is well acquainted with those that are professional, courteous and fair. Plus, when it comes down to signing, your wedding planner knows the ropes. She can help you make sure that you are getting the best bang for your dollar, that you are receiving quality products, and aren't being swindled.
6.     She understands the time crunch
Wedding planners, by nature, are hyper-organized. Detail-oriented and fiercely loyal to their clients, good wedding planners make you a priority and understand that all weddings operate on a timeline. Wedding planners know that, in "wedding time", one year of planning flies by. Your wedding planner makes sure that you have accounted for all of your vendors, that your vendors are signed in a timely fashion and that they are paid on time. In addition, you wedding planner understands how to orchestrate a wedding from start to finish. Not interested in having your ceremony time run into cocktail hour? Your wedding planner help you avoid scheduling errors that can make your wedding fall off the rails.
7.     She understands your vision, and can make it a reality
Every love story is different and it is the little touches, those little hints of who you are as a couple, that make your wedding unique and special. Almost everyone has an idea of what they want their wedding to look like. Unfortunately, not everyone has the artistic flair or creative design skills to make it a reality. Many good wedding planners have a background in design and have the ability to articulate your dreams and ideas. Are you looking to have a vintage chic wedding but don't know where to start? Maybe you love riding horses and want there to be a riding theme to the celebration. Whatever the look you are going for, wedding planners can set a mood through event design that is sure to make your day memorable and unique.
8.     She can make your destination wedding manageable
Thinking of going down south to say "I do"? Though unquestionably beautiful, destination weddings carry their own unique set of challenges including weather forecasting, travel arrangements and hotel accommodations in addition to the regular wedding planning process. A good wedding planner has connections to travel planners and, together, both of these professionals can help you navigate the world of destination weddings in stride while making sure that, once you arrive at your destination, your wedding is exactly how you planned it.
9.     She is a great friend
When hiring a wedding planner, it is essential that you find someone who you get along with. More than just a wedding coordinator, a good wedding planner understands that her job doesn't stop at organizing. For the duration of your wedding planning process, your wedding planner will be your friend and confidant. She will be there to celebrate with you and will be there to lean on. The best wedding planners understand that it is a privilege to be involved in what often amounts to be one of the most important occasions in their client's lives. At the end of the day, your wedding planner finds happiness and fulfillment in seeing your dreams come true with the one you love, and who could ask for a better friend then that?
Anastasia Marie is the CEO and Creative Director of Anastasia Marie Wedding and Lifestyle PR, a full-service wedding planning firm in the Ottawa area. Anastasia is obsessed with all things wedding related and is proud to be a "best friend for hire"!