By Molly Hanzidiakou
photos by Sara Jane Kiley-McDonald
Trash the Dress
Over the course of a wedding day, a bride and groom are surrounded by celebrating friends and family.  With only a handful of brief moments to themselves, couples can share an intimate moment during the wedding photo session. These moments are often seen in the photos that will be shared and looked at again for many years to come. Something new is happening.  Something a little more creative and, one might even say, dirty. Alongside wedding day photos, more and more brides are joining in on a new trend: having a separate day, after the wedding, for a Trash the Dress photo session.
There are no rules when taking Trash the Dress photos, other than to be safe.  Some brides purchase a second, cheaper dress for the shoot that allows for a new look, while others use their original dress. Whether in paint, mud or water, there are no guidelines for a Trash the Dress shoot.  Sara Jane Kiley-McDonald is a local Ottawa photographer who is on board with taking these relaxed, easy-going shoots.  "These sessions are a fun way to get as creative as possible and really showcase our artistic side," she says, "The possibilities are endless and it gives us a chance to really go outside of the box with our art and at the same time create some amazing memories with our clients."
With ideas from the newlyweds and ideas of her own, Kiley-McDonald and her husband David have worked with many couples to create intimate, fun Trash the Dress sessions. One of her favourite sessions involved following a couple to Jamaica where they hired a driver to transport them to different locations.  One location was an old broken-down church in the middle of a field completely overgrown by vegetation.  "We were overtaken by fire ants during this section of the shoot.  The things we will do for an amazing photo!" The final destination was a gorgeous cliff overlooking the ocean where the couple dunked themselves into the water falls and later went into the sea.  "We used underwater cameras for some of the shots and it was one of the most amazing experiences as a professional photographer that my husband and I have ever had," says Kiley-McDonald.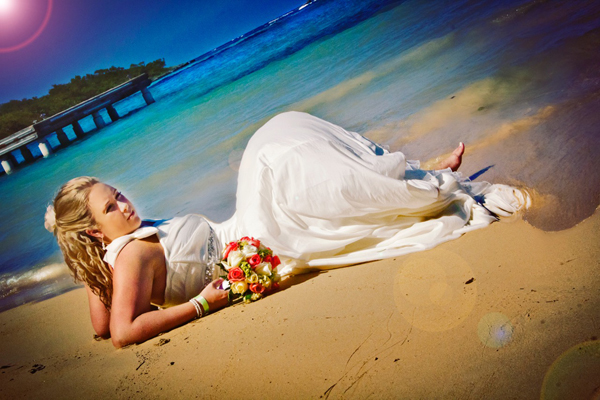 Kiley-McDonald strategically plans out Trash the Dress shoots to best show off the dress. "I always have the sessions go in a specific order.  Clean, dry land shots first, then we move to photos on the ground which involve sand and sitting and then gradually work our way into water.  Once you get to the water part you are pretty much done after that. It's the most exciting part too so we are basically saving the best for last with these sessions," she adds.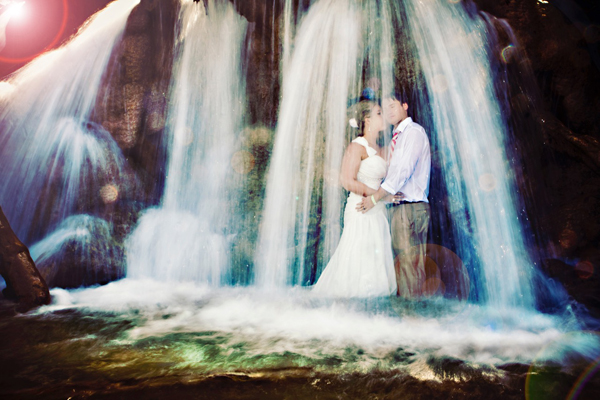 With all the fun of these sessions there has to be caution as well, especially when water is involved.  You always have to be very careful when doing the sessions especially in the ocean or near fast moving water.  A wet dress can increase in weight by two times or more and in August 2012 a woman tragically drowned in Quebec during a Trash the Dress session. Make sure your photographer, like Sara Jane Kiley-McDonald, knows exactly what she's doing, and bring along a friend or two to help in case of an accident.
Trash the Dress pictures allow for something totally out of the box for many brides.  Trash the Dress is not only about the outcome of the pictures, but the experience of having them taken.  A Trash the Dress photo shoot is a fun way for a couple to show off their wild side, and have beautiful and surprising photos to look back on.