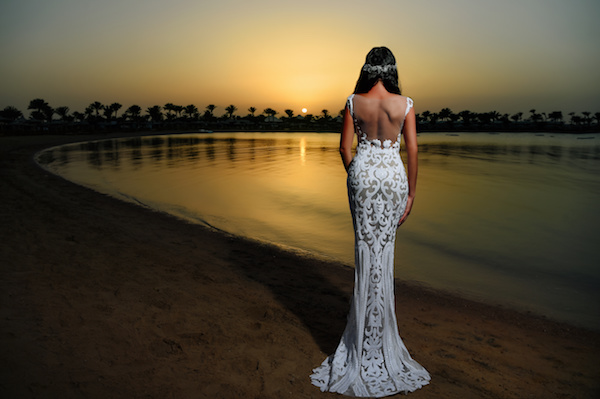 There is no end of fabulous, fashion-forward wedding gowns from which to choose. But what you wear under your gown is what will make all the difference when donning a daring style. Proper undergarments will ensure everything stays in place.
Your first dress fitting is really the time to start thinking about what you'll need for undergarments. At this appointment you'll see exactly where the dress hits certain parts of your body and what you'll need to accentuate those assets.
While you may be confident that you can just pop into a department store, pull something off the rack and be on your merry way, it's recommended to work with a fitter who can take all the proper measurements and determine what will make you look your best. Call around and try to book an appointment with a fitter. If they know you're coming, they'll be better prepared once you arrive.
If possible, bring photos of the gown so the fitter has an idea of what she's working with. This visual will help with the colour and cut of the undergarments. The options are now endless and whether your style is halter, one-shoulder or strapless, there's a bra to fit that mould.
The key to successful bottoms is to appear as though you're not wearing any bottoms at all. No lines. No bulge. No visibility. What you choose will depend on your gown. The poufy princess gowns with volume and layers of tulle give brides complete freedom to wear whatever they like underneath.
For those gowns that really accentuate your assets, then shapewear is your best bet. Shapewear has come a long way and there are several options that are far from that original industrial or athletic look. When trying on shapewear, make sure it fits all over. It should not cut off your circulation or feel like it's cutting into your skin. Shapewear should be comfortable while holding everything in.
Something to keep in mind when it comes to not just the gown, but also the undergarments, is if you lose or gain weight, they will fit differently. Bra fittings are tailored to the size you are at that time. While some may offer a little give and take, the more structured the undergarment, the harder it will be to make it work if pounds are shed or gained. The lingerie boutique may be able to make a few minor adjustments leading up to the day, but don't leave it to the last minute.
While it may not be as glamorous as the dress purchase, these foundation pieces will be the anchor to your bridal style.