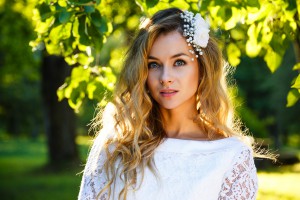 When I started dress shopping for my wedding, one question that came up again and again was, "What kind of veil do you want?" To be honest, the question always caught me off guard because I knew there was only one answer: "It depends on the dress!" Your entire wedding look, including your jewellery, veil and hairdo, should absolutely complement the dress. So how can you match your hairstyle to your wedding dress? Don't fret. We've got some great tips on coordinating the two with ease.
Backless dress
Backless wedding dresses are very on trend. And whether it's completely open in the back, partially bare, or just the illusion of an open back with lace detailing, you'll likely want to show off that sexy back. Consider an up-do to give your back the spotlight. If you aren't feeling an up-do but still want something flattering, try a longer look where your hair is pulled back and styled to the front and side. Think an ultra-glamorous low side pony with curls.
One-shoulder gown
A one-shoulder gown is great for showing off fabulous arms and a little skin, so don't have your hair covering that up! A half-up/half- down 'do is a great way to balance this asymmetrical look. If your wedding is a bit on the formal side, an up-do works really well too. And since the focus of the gown is showing off the shoulder, you can rest assured that just about any veil length will work.
Strapless or sweetheart dress
Strapless and sweetheart-neck designs are still some of the most popular wedding styles. The good news is, they not only flatter just about every figure, but they work with just about any hairdo too! If you are having a church ceremony or concerned about showing too much skin, consider a long style instead of a half-up or formal up-do.
Casual or beachy dresses
If you're having a beach wedding or a more casual affair, embrace the afternoon vibe with a non-fussy look. Long hair styled in "beachy" waves, or even loose braids and half-up/half-down looks are perfect for beach weddings. This is one look where you'll want to avoid the formal up-do and have fun with your hair. W
Source: www.Latest-Hairstyles.com.