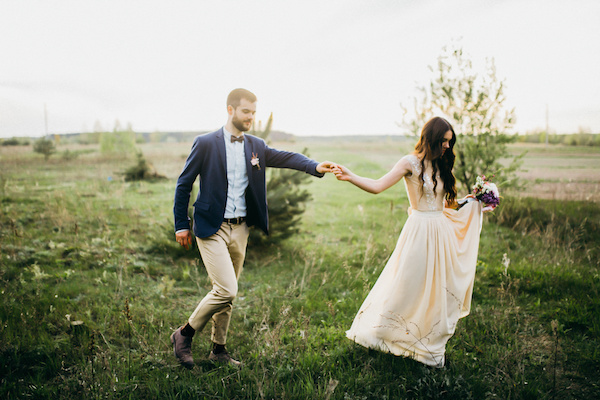 Your big day is just that. Your party and a reflection of who you are. While classic weddings of yesteryear may have followed standard traditions, that's not the case anymore. Some brides have both their parents and their children accompany them up the aisle. Other couples have their dog as part of the wedding party.
Whether it's a boating theme or a rustic locale, you get to choose the wedding you want. It can certainly be a reflection of your lifestyle and personal beliefs, if, for instance, you're vegan or committed to an eco-friendly lifestyle. These wedding books offer some great inspiration.
The Natural Wedding: Ideas and Inspiration for a Stylish and Green Celebration
Louise Moon
Yes, you can be eco-conscious … even on the most important occasion of your life. While your dream dress may be a shade of white, your wedding day can be green. The Natural Wedding: Ideas and Inspiration for a Stylish and Green Celebration, by leading wedding planner Louise Moon, tells you how. There are plenty of options, from incorporating just a couple of smart options, such as featuring locally produced, organic food, to making the whole affair as environmentally friendly as possible. After all, romance, wonderful style and conscientious choices can marry nicely.
This tome includes possibilities for all aspects of your wedding, from the venue, flowers and outfits to the gifts, reception and honeymoon.
The Everything Vegan Wedding Book
Holly LeFevre
Are you or your spouse-to-be vegan? You don't have to serve meat and potatoes at your wedding. And you can make choices, about everything from what you wear to what you use, that fit your lifestyle and beliefs. The Everything Vegan Wedding Book: From the dress to the cake, all you need to know to have your wedding your way! by Holly LeFevre provides you with information, ideas and practical tools to make your big day animal friendly, earth friendly and fun for all. Even the most particular guests will declare your festivities a success, thanks to this guide for the vegan bride.