The development of a fall/winter issue of Ottawa Wedding Magazine starts in January. So, it was easy to put our minds to the needs of those couples who are planning a cooler temperature event. Forecasting what will be trendy for fall and winter weddings is our job. And, there is no lack of ideas this season.
Our goal is to stay on top of the bridal industry trends and deliver them in a way that makes your life as a bride- or groom-to-be a little bit easier. You'll also notice the magazine has a refreshed cover — this issue focusing only on our bride. What does that mean for you as you're planning your wedding? You're still getting the same great content, and we're continuing to deliver on our promise to be your number one source for executing a stellar celebration in and around the Nation's capital.
Whether you're the bride or the groom, the Maid of Honour or the mother of the bride, I hope the pages of this magazine serve as a roadmap to your happy wedding. It's one of the most important days of your life, and we at Ottawa Wedding Magazine want to be right there with you.
If you're as inspired by the stories as we were in putting them together, I want to know about it. Send me your best wedding stories, share your most tender moments during the day. I know that other brides will love to hear your stories.
A big thank you to everyone involved in planning, writing and bringing beautiful imagery for this issue. We think it's gorgeous. And, we hope you think so, too.
All the best and happy planning!
 Pat den Boer
editor@coylepublishing.com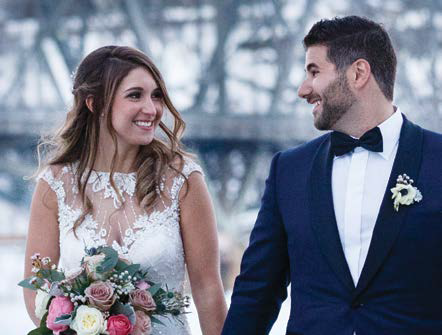 Photo: Miv Photography
*
Want to see your special day in Ottawa Wedding Magazine? If you want to contact me about how to include your wedding day in this publication, then please take note. We will not accept high-resolution images by e-mail. If you would like to send me a note about your wedding, do so in four or five paragraphs, describing your day. Make sure to include the bride's and groom's names, wedding date and location. Send along two or three low-resolution (less than 1MB) images. We have special requirements for photos, which will be communicated to you once your story is accepted.