Spring Fling
Spring flavors
Pick a wedding cake that summons a taste of spring with in-season berries and fruits. Instead of traditional buttercream filling, consider a fresh strawberry puree filling or a lemon cake with blackberry filling. If you love chocolate cake but still want a taste that reflects the season, try a chocolate cake filled with chocolate cherry ganache.
Spring blooms
Flowers can go a long way in defining a spring theme for your wedding cake. Match your cake to your bouquet by asking your baker to create sugar versions of your wedding day flowers. If you're considering modern decor, ask your baker to make a statement with a few large graphic sugar peonies on each cake tier. If you've chosen a more classic look for your wedding, find out whether your baker can paint small daisies along your cake using an edible dye.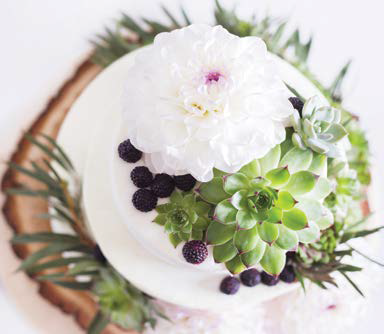 Seasonal colours
Colour definitely counts when designing a spring wedding cake, and you can't go wrong with a palette of preppy white, pink, and lime green or a pastel hue like lavender. For a more subdued palette, add a hint of spring colour with a simple chocolate ganache-covered cake with subtle white dots, or an ivory buttercream cake trimmed in light pink. Or let the spring colours pop with an ivory cake accented with sugar-molded butterflies or birds.
Mix and match
You don't have to choose between a charming naked cake and the traditional frosted buttercream. Try mixing and matching.  Instead of one grand confection, opt for smaller tiers and get a few styles you really love. Worried it might look too random? Pull the presentation together with one consistent element, like the same cake stands or floral decorations.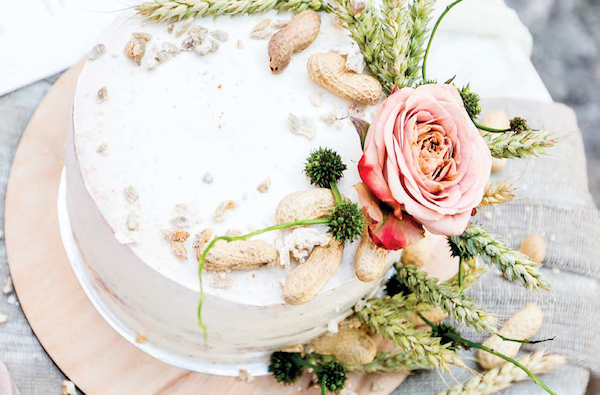 Shapes and add-ons
When it comes to a spring cake, flowers, butterflies, and other elements made out of chocolate, sugar, or gum paste are obvious options. But you don't have to go overboard with these add-ons to get a springtime look. Instead, consider a white cake stacked with subtle, soft white hydrangeas with just a hint of blue or green. The tone-on-tone look will up the elegant factor and still give you the same seasonal effect.
Choose seasonal sides
Consider offering a spring-inspired side with your cake. Serve cake a la mode with gourmet lavender-infused ice cream; add a handful of chocolate-covered cherries to each plate; or have your caterer present each guest a petite bowl of spring berries topped with a dollop of fresh cream.
From the files of Ottawa Wedding Magazine.