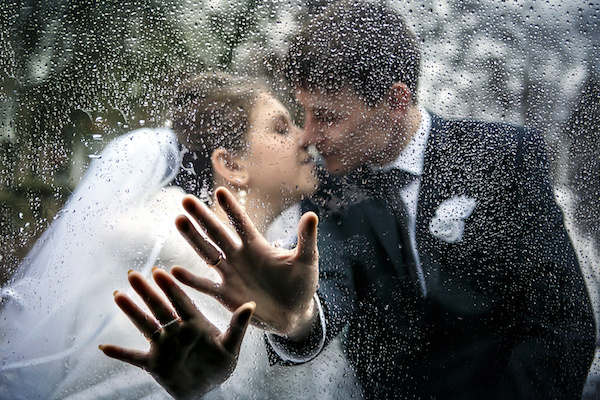 When Kirsten married her beloved Paul, their special day was anything but typical. For one thing, it didn't take place on a typical spring or summer or early fall day.
No outdoor venue, no worry about mosquitos or rain or wind, no concerns about perspiration stains due to 30+ C temperatures.
The ever-popular strapless wedding dress was atypically absent and not a picture was taken in a rustic or scenic rural setting. In fact, there were no outdoor images at all.
And the bride and groom didn't have one minute of anxiety or grief over the weather forecast or the vagaries of Mother Nature. That's because the wedding took place in late November. It was held in the evening.
And it was one that is still talked about as being particularly lovely.  The venue was historic and romantic, the crowd was ebullient and congenial and the whole event was full of charm and joy.
Key features in this Weatherproof Wedding
There was lots of candlelight — and people to look after those candles. They cast a warm glow and a sparkle that defined the ambience.
The music had been carefully selected to appeal to the guests, and the DJ was willing and happy to honour requests. The result? Everybody — young and old — got up on the dance floor and had a lot of fun.
The personal touches were wonderful. They included hand-crocheted lace hearts. Kirsten had asked the crocheter in the family to make the beautiful keepsakes and they were created with love and TLC.
Other family members and loved ones pitched in as well, whipping up tasty canapes and sweet treats — bite-sized squares, cookies and cupcakes — for the occasion. The homemade irish creme was also very much appreciated by the guests.
All in all, from start to finish, it was a unique wedding celebration that was full of love and that was in no way dependent on the weather. And that's something to consider.