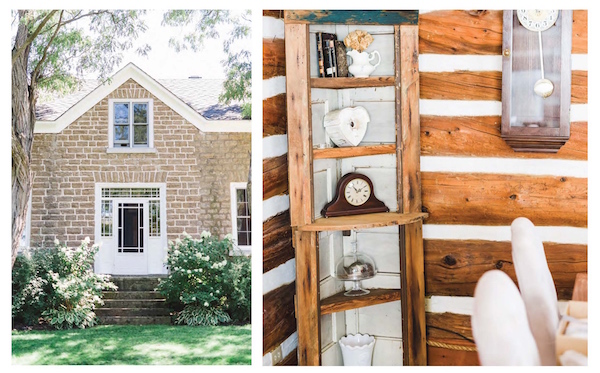 You've probably heard of Stonefields, the award-winning venue in Beckwith that has played host to more than 160 weddings over the past six years. Certainly, anyone who has attended an event at the 120-acre heritage farm knows it's a magical setting for saying "I do's." Its stone farmhouse, log barns and arresting scenery serve as a remarkable and timeless backdrop for an equally memorable occasion.
And now the Stonefields wedding experience can be even more special. The venue has introduced the Stonefields Inn. The jewel of the historic estate, the stone farmhouse was built in 1857, and now it's available for rent by wedding couples and their guests for the night of the wedding. Imagine. No sacrificing ease and convenience to hold your wedding in an exceptional setting.
Not only do you not have to arrange for a driver or worry about drinking and driving and getting to a hotel miles away, you get to spend your wedding night in a one-of-a-kind place that's full of charm and steeped in history.
Brides and grooms can begin and end their wedding day in the historic home. The 4000 square foot space includes 4 bedrooms and 3 full bathrooms, along with a fully renovated kitchen and preparations space for the bridal party.
This space is also available to guests of weddings at Stonefields, should the wedding couple and their party not require accommodations themselves. The 2017-2018 rate for the rental of the Stonefields Inn for the night is $1,000 + HST. Guests may check in at 1pm, and check out at 10am the following morning.
"Offering overnight accommodations has been a long-term goal of ours," says Stephanie Brown, co- owner. "We spent seven years living in the farmhouse while we built our business from the ground up and are happy to now pass it on to our couples and their guests to enjoy. As the third family to own this farm in over 200 years, we feel it is our duty to keep the heritage alive. Being able to share each part of this beautiful estate with our guests allows us to truly celebrate the rich history of the farm."
This new offering is the latest in a string of recent enhancements to the property, including completion of the Stonefields Loft, the new state-of-the-art reception space complete with a commercial kitchen. Stonefields is thrilled about this latest venture and looks forward to continuing to deliver world-class wedding packages to clients from around the globe.
About Stonefields
Stonefields is a timeless and exclusive outdoor wedding and event venue located a short drive from Ottawa in Beckwith, Ontario. Stonefields has built its reputation and brand as a country chic venue providing superior, personalized service. The breathtaking setting currently serves as the perfect backdrop for outdoor wedding ceremonies, receptions and private functions.
For more information, visit the Stonefields website at stonefieldsweddings.com.