Stick To a Plan and Avoid Musical Chair Mayhem
Though it may seem like a daunting task, particularly if you are having a large wedding, creating your seating plan is relatively simple with a little forethought. Though you might be tempted to allow your guests to sit wherever they like without a seating plan, it is generally a bad idea. Guests will take longer to be seated, in turn delaying the reception events. People will rush for their preferred seats and typically it will be very disorganized. So instead, create a seating plan to make things easier on you and your guests.
Map things out
Before you start worrying about who is going to sit where, head to the reception facility and look at the actual space. Bring a pencil and sketch pad to map out the layout (hotels and other facilities may be able to provide a depiction of the layout). Keep in mind where the head table will be positioned, as well as the music, cake table, buffet tables and other factors.
The head table
The head table, also called the top table, normally is located in the front or other prime location at the reception site. This is where the bride and groom sit, along with the wedding party. It is traditionally a long table with seats down one side, facing out to the rest of the guests. The bride and groom sit in the centre of the table with the groom to the right side of the bride. To the bride's left is the bride's father, groom's mother and then best man. To the groom's right are the bride's mother, groom's father and then maid of honour. The dates or spouses of the best man and maid of honour are not seated at the head table.
Seating arrangements
There are no specific etiquette rules in terms of the rest of the guests. However there are some guidelines that will make your seating plan much easier.
Give the rest of the bridal party the table (or tables) closest to the head table.
Seat grandparents and older guests away from the music.
Keep general age groups together.
Seat loud groups of children, teens and 
boisterous adults away from seniors.
Balance tables with even numbers of 
males and females.
Don't put "leftover" guests who don't 
know anyone all at one table. Instead disperse them throughout.
Assigning seats or tables
Though you definitely should assign guests to particular tables, it may not be necessary to assign them to specific seats at each table. For a more casual feel, you can assign each guest to a table number and allow them to sit wherever they like at that table. This will also cut down on paper because you won't need place cards.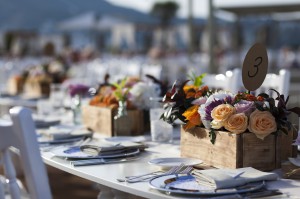 Seating chart
When your guests arrive at the reception hall, they can pick up their seating cards (which should be arranged in alphabetical order on a display table) and take their seats. In lieu or in addition to seating cards, you can have a large seating chart visible on the wall. This chart should be arranged in two lists. One list should have every guest, again in alphabetical order by last name, along with their corresponding table and seat number. The second list should be in order of table number. Under the heading "Table 1" you will list: 1. Ms. Donna Thompson; 2. Mr. Andy Marsh, etc. By having two lists, your guests will be able to easily identify their seat location.
The most important thing about making your seating arrangements is not to stress out. As long as you don't seat people together who don't get along, everything will be fine. To stay organized, there are many online software applications available that allow you to create your seating plan with ease.
Compiled by R. Legault from Ottawa Wedding Magazine files.