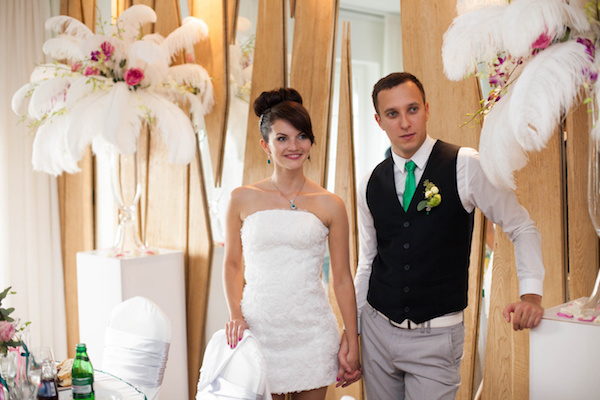 Two wedding dresses?
Yes. Why not?
It's not unusual for brides, at some point in the wedding day, to slip out of the fabulous designer dress and into something a little more comfortable. While your dream dress is apt to be incredibly lovely, flattering and special, it's also likely to be itchy, delicate and probably heavy. Besides that, if  it's strapless, it's apt to move around a little or shift south after considerable movement. Yanking your dress up is never a good bridal look.
That's why many brides choose Dress #2 — along with a second pair of shoes — for the later festivities and dancing. If you're planning a party that will last until the wee hours and involve plenty of action and mingling, it's okay to be at ease and important to be able to move around.
You don't want to be sitting still all night or limping because you've given yourself blisters dancing in four-inch open toe stilettos. You may want to dance with your dad and your father-in-law, your brother and your new brother-in-law, your cousins and girlfriends and high school chums. And you don't want people stepping on your train or the edges of your beautiful long dress.
So, how about a little more dress shopping? It's your big day and you're certainly worth it! A pretty, above the knee (or shorter) number is an ideal option. And a shade close to the colour of your wedding dress tends to be a popular option. You can still stand out from the crowd in a shorter dress.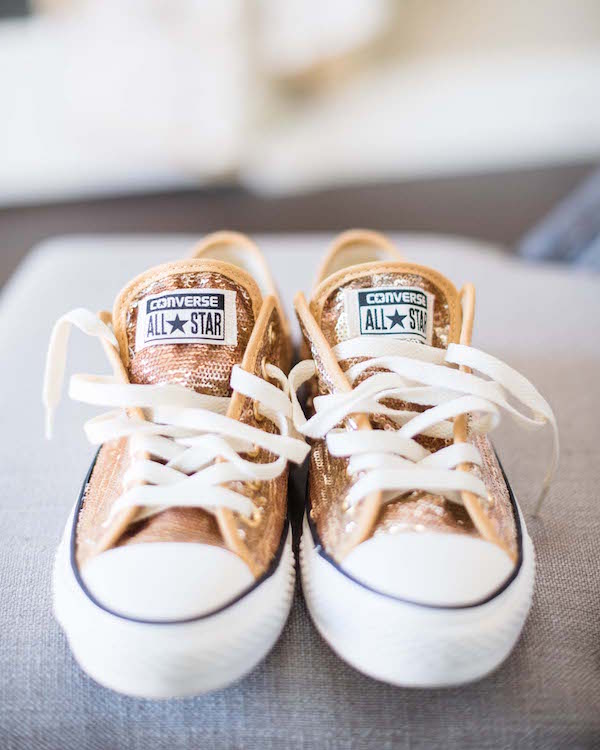 Unless your style is opulent or ultra-glam, your  second dress doesn't have to be too ornate or bedazzled. You decide. You can also have fun with footwear, from flats to kicky sandals. For instance, when Jessica and Chintan got married last year, Jessica changed into sparkly gold sequined Converse All Stars for the reception.
As for when and where to change, figure out a plan in advance. Your venue will probably have a private change room. Be sure to arrange for one of your attendants to help you change, switch dresses and deposit your wedding dress somewhere safe.