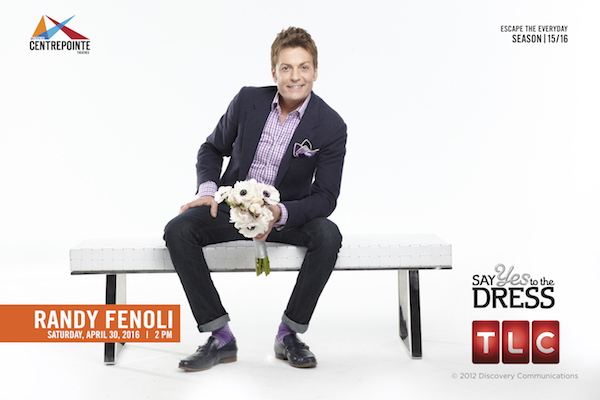 TLC's Randy Fenoli Helps Ottawa Brides 'Say Yes to the Dress' This Saturday!
Ottawa Brides are thanking their lucky stars: the Wedding Dress Whisperer is coming to town this Saturday, April 30, and there are still tickets available for the show at Centrepointe Theatre!  Randy Fenoli, of Say Yes to the Dress fame, is coming to Centrepointe to talk dresses, Kleinfelds and getting the perfect look for your day.
Topping off this afternoon of extravagance is a private VIP event hosted by Fenoli, for 250 lucky guests featuring the top tier of Ottawa's bridal suppliers. One lucky bride will win a private consultation with Fenoli and will literally Say Yes to the Dress and walk out with the gown they choose.
Born on a cattle farm in Southern Illinois, a young Randy Fenoli was, perhaps, an unlikely candidate for 'Designer Gown Guru'. Fast forward a decade (or two) and Randy is the star of four successful television shows, the author of a bestselling wedding book, and has become a regular on the daytime talk show circuit including, The Today Show, The View, Rachel Ray, Extra, Get Married, and The Martha Stewart Show.
Driven by his fascination for design, Randy taught himself how to sew at the early age of 9. His passion for fashion and design lead him to the prestigious Fashion Institute of Technology. Immediately after graduating, Randy launched two bridal industry collections: Randy Fenoli for the Diamond Collection and Randy Fenoli for Dressy Creations.
Today as the star of TLC's Say Yes to the Dress, Big Bliss, Randy Knows Best, and Randy to the Rescue, Randy is seen by millions of viewers each week. On Randy to the Rescue, Fenoli travels the country with a semi truck filled with wedding gowns and accessories helping brides find their dream wedding dress at his ultimate pop up bridal salon. Randy selects three lucky brides who have said "Yes" to their dress and then, with the help of a hairstylist and makeup artist, transforms these brides from head to hem and presents each with a bridal blueprint for her wedding day.
With a philosophy that EVERY woman is beautiful, no matter what her size, age or shape, Randy inspires women to feel truly beautiful on their wedding day. Randy will share this message with 1000 brides at Centrepointe Theatres to open 'wedding season.'
Following his inspiring presentation, Randy will host an intimate and exclusive VIP bridal experience. Challenging the current model for Bridal events, this afternoon features the best suppliers in the National Capital Region. Gone is the busy, loud, and often exhausting afternoon of bridal trade shows. Instead, guests will grab a cocktail, take a picture with Randy, and take time exploring the upper echelon of all things bridal.
Every vendor is providing a significant prize to be given away leading up to, or at the event including a wedding gown (The Handmade Bride), catering (Thyme and Again), a custom made glow bar setup for the wedding day (Ottawa Special Events), custom made bridal jewelry (Strut Jewelry), wedding planning services (Toast Events) and many other spectacular prizes.
VIP ticketholders will also receive an exclusive swag bag packed with goodies from VIP vendors. Vendors include:
Thyme and Again Creative Catering
 Flowers Talk Tivoli
The Handmade Bride
Ottawa Special Events
Klava Z. Makeup Artist & Educater
Toast Events
Breakaway Experiences
Millennium Limousines
Dynamix Productions
Flashpoint Photobooth
Sweet Clementines
Strut Jewelry
Cellar 82
See www.CentrepointeTheatres.com for full list of vendors.
Tickets to attend the VIP event are $100 and tickets to see Randy speak are $60.
Each ticket (GA or VIP) is entered to win a number of prizes.  Randy will be picking seat numbers during his presentation, and will give away some incredible prizes.
For more information or tickets visit: www.centrepointetheatres.com or call the box office at 613-580-2700.