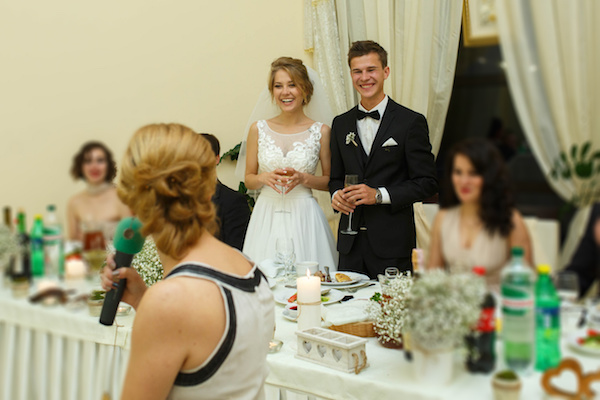 Does wedding etiquette still exist? "Yes it does," says Suzanne Nourse, founder and director of The Protocol School of Ottawa. "Many weddings are more casual now, but there are still appropriate ways to do things."
Julie Blais Comeau, chief etiquette officer at www.etiquettejulie.com, says etiquette exists now "more than ever." Unfortunately, so do faux pas and embarrassment, she adds. "There's a lot of confusion. People don't know what to do."
One sensitive topic is who pays for what. Julie, the author of Etiquette: Confidence & Credibility, says she receives plenty of emails from readers who've been asked to help pay for the "dream day." People are getting requests to pay $50 or $80 for the meal, or to spend a specific dollar amount to participate. "It's a growing trend that is absolutely rude. A wedding shouldn't be about making a profit.
Suzanne, co-author of The Power of Civility, also mentions money in relation to modern wedding etiquette. "Who pays for what has certainly changed over the years. With older brides and grooms and couples living together prior to marriage, it is very common for the couple to pay for the wedding themselves, rather than the bride's parents." Just don't expect your guests to foot the bill.
Another no-no is when you include a phrase such as, "Your presence is present enough" on an invitation. That's not the place to allude to a gift, Julie counsels. You can include your registry information on your wedding website, or inform close friends and family members who can pass along information about your needs and gift preferences.
A wedding invitation still equals an obligation to provide a gift. But there's no magic formula for what a guest must buy or spend. "Whether the couple gets married at the Château Laurier or the Sugar Shack, it should not have an impact on the gift you will be offering. Go with your heart, but respect your wallet."
Outrageous financial requests aside, this etiquette expert also urges the bride and groom to respect their guests' and attendants' wallets. If you're planning a destination wedding or festivities that stretch over days, recognize the costs will add up for your friends and loved ones. "You should be very conscious of what you're requesting of your guests."
Worried you might miss something? When you're not sure what to do, as a host or a guest, find out from a knowledgeable source. "Your best friend may not have the appropriate answer," Suzanne cautions. "Some etiquette consultants may provide guidance," she adds, mentioning she has consulted with brides and bridal parties prior to the nuptials. "I leave wedding planners or attendants to deal with the actual day."
While a wedding planner is not necessarily an etiquette expert, you'll undoubtedly have countless questions about how to do things with proper decorum. Not only are wedding magazines and books available for reference, there are websites such as ottawaweddingmagazine.com, as well as blogs and online etiquette columns that offer ongoing, timely advice.
"The beauty of etiquette is that it's evolving," Julie says, noting some brides use hashtags and embrace social media as part of the celebration. "Others ask people to please put the technology away." Whatever the preference, she adds, "People should stay focused on celebrating love, with friendship and respect."
Both Julie and Suzanne emphasize the importance of honouring the couple's wishes when it comes to sharing the wedding news. "Tweeting a photo of the couple before they have given permission or posted to their own social media sites is definitely inappropriate," Suzanne points out. Julie urges you not to post a selfie in front of the couple as they celebrate their first kiss or dance. "Respect the couple and the professionals they've hired."
As for bridal etiquette, there are some timeless must-do items you can count on. You must pick your attendants, guest list, budget, and seating plans carefully and thoughtfully; you must personally greet all your guests (receiving line or no receiving line) and thank them for attending; you must make your guests feel comfortable and welcome; and you must promptly send hand-written thank-you notes.
Remember your obligation to your guests and be gracious hosts. For instance, "Provide refreshments or something for guests to do while the hour and a half photography session stretches on," Suzanne suggests.
At the same time, a lot of bridal customs have toppled completely off the radar. Brides don't have to wear white or don veils and they don't have to choose all-female bridesmaids. Not only do some brides and grooms have attendants of opposite genders, it's not unheard of to witness a family pet walk down the aisle as a member of the wedding party.
The tricky part is knowing what rules still matter. Is it okay to wear white or black to a wedding? Can you bring an escort or your kids? To avoid embarrassment or hurt feelings, Julie urges you to ask. "When in doubt, find out." W