As long as I can remember, the wedding veil has been worn by many if not most brides.   The veil is designed to accentuate not hide your wedding dress design.   The beauty of a veil provides the finishing touch for your wedding outfit and can be worn with a tiara or headpiece.  Traditional veils called blusher style are used in the church and lifted from your face by either your father or groom.    If you don't like this idea then you can pull the veil back  away from your face.   Many veils are now detachable and can easily be removed by Velcro so you don't have to worry about it blowing in the wind for pictures.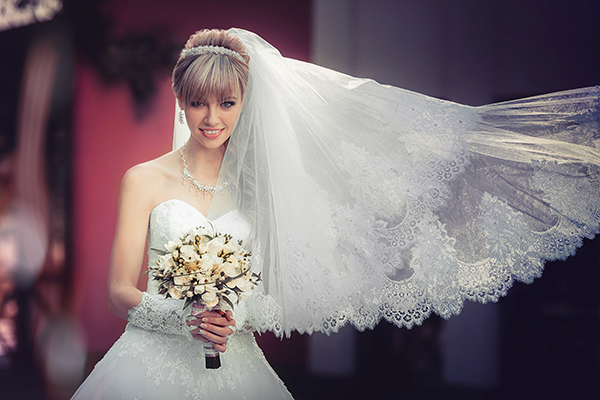 What about hair flowers and no veil at all?   Big trend with more and more wedding hair flowers and bling clips without the veil.   Veils are still worn for many ceremonies in the church but for destination or outdoor ceremonies, many brides choose to forgo the veil especially if they have purchased a modern wedding dress.   The wedding flower is a big hit among brides.  You can get them in various colors and styles to accent your wedding dress and can even wear more than one!
The designs and styles of these hair flowers are endless.  I particular love the all white or cream ones with a touch of  beading.  You could also select a real flower piece for your hair that compliments your bouquet.  Make sure you choose a flower that will last throughout the day and evening.  Whether you decide to go real or faux make sure to do a trial run with your hairdresser.  You want to make sure the size of the flower is appropriate for you and compliments your dress.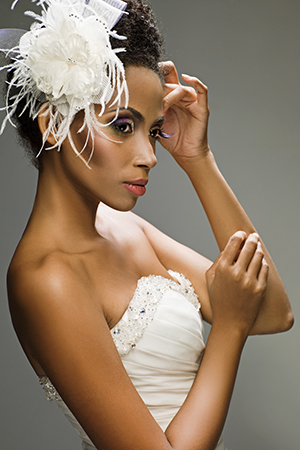 What about the tiara?  This is so popular and started back with Grace Kelly wearing one making them so timeless and classic.  When you put one on you really will feel like a princess for the day.  If you shop online you will find some beautiful ones to choose from.  There is a variety of pearl, diamond, faux and colored stones.  Sometimes that accent piece may just say it all and be the perfect accessory for your wedding dress.  The tiara should sit high and firm on your head.  You can choose to wear  the tiara free style or incorporate it into your up-do.
Choosing a veil, tiara, flower, or mixture of two is your personal preference but you won't be able to answer that question until you pick that perfect wedding dress.  It's then you can decide which one is the best fit for you and compliment the dress.