Putting Your Best Face Forward
As the blushing bride you want to stand out as the most beautiful woman in the room. With our beauty tips below, there's no doubt that all eyes will be on you.
Find your inspiration
Magazines
Look through fashion, beauty and bridal magazines for ideas on how you want your makeup to look. Some of them will give you step-by- step instructions. Check for photos of models or celebrities with colouring that is like yours. You can even get some ideas from looks that are completely different.
Gown
Take inspiration from the detailing and colour of your gown. Don't match your makeup to your dress, especially if you're a bridesmaid. Natural peach or coral shades on your eyes, cheeks, and lips will work with almost any dress. If you're wearing a red dress and want dramatic lips, try switching a matching red for a soft bronze, gold or coral shade instead.
The goal to looking beautiful on the big day is to look timeless, not trendy. The best look for any bride or bridesmaid is a fresh, natural look that shows off the best possible you, rather than the fresh, chic look you find on the catwalk.
Face
Foundation and concealer are the most important aspect to looking good in photographs. The tiniest blotches or under-eye circles look bigger in photographs. Make sure your foundation matches your skin tone exactly and is sheer enough that you won't look caked on by the end of the day. If you're using a liquid foundation, apply it first and then fix spots with concealer. If you're using a powder foundation, use it after the concealer.
For under-eye circles, cream-based concealers in a shade lighter than your skin tone will work for you. For any blotchy areas, use a thicker, stick formula that matches your skin tone exactly.
Cheeks
Blend soft pink or peach blush into the apples of your cheeks. Then, use the same brush — without applying more colour — to sweep lightly across the forehead, temples and chin.
Lips
If you want to make lipstick last, apply a bit of foundation to your lips and set it with a light dusting of loose powder. Line and fill in your lips with a nude-coloured lip liner. Then, use a lip brush to apply a soft peach, rose or berry lipstick to your lips. Blot your lips with a tissue, and leave it on your lips while you dust on a little powder with a fluffy brush. Remove the tissue and re-apply colour with the lip brush.
Avoid red lipstick because it's too high maintenance. More natural lip shades wear off more subtly and don't have to be touched up as diligently or as often.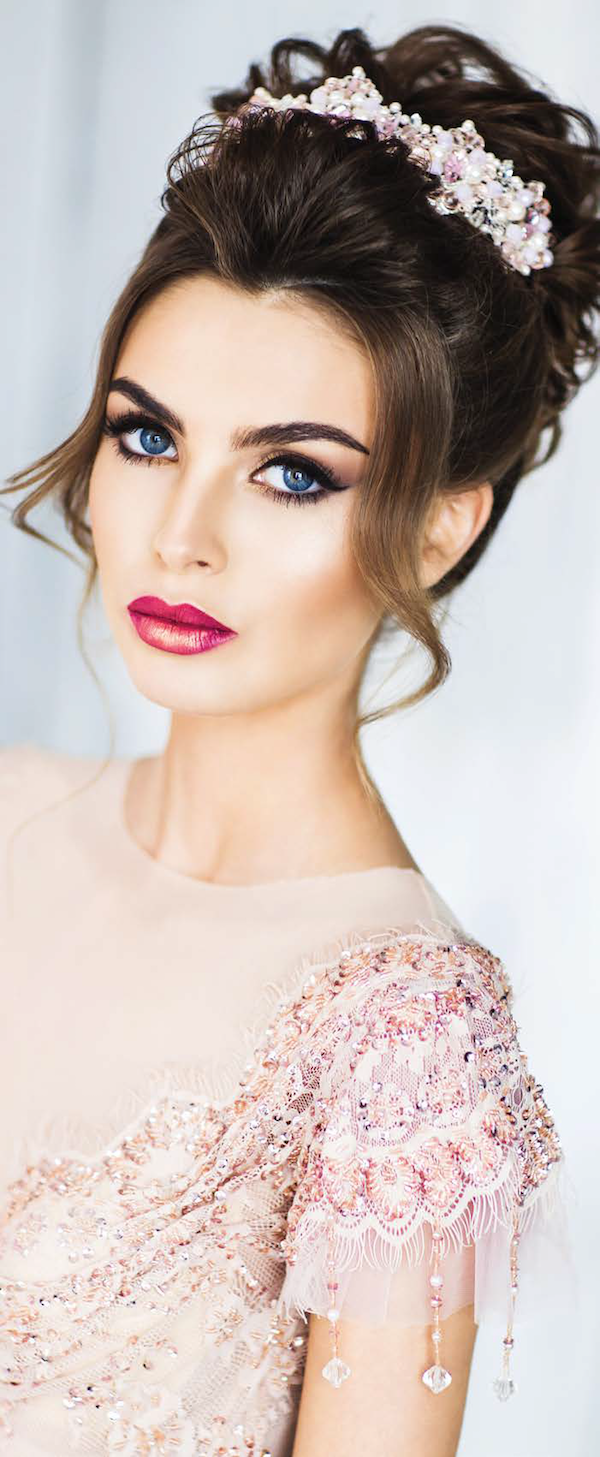 Eyes
Choose a sheer shimmer or matte formula in peach, coral or soft pink across the lid, blending it upwards to the brows. Use a liner brush to apply a small amount to the lower lash line. Then, trace a line on the top lid with dark brown, plum or wine-coloured eye pencil, right at the base of the lashes. Slightly smudge the colour upwards to blend with your eye shadow. Blend a similar shade of shadow over the liner, at the outer corner of the eye and into the crease. Finally, dab a touch of champagne or pale gold shimmery shadow to the inner corner of the eye for a twinkling effect.
Lashes
Curl your lashes and add black mascara. Opt for dark brown mascara if you're very fair. If your lashes are really short or super fine, false lashes can be really effective. To keep the look pretty natural, cut the strip of lashes in half and use the half with the shorter lashes only. Be sure to practise putting them on and wearing them in the weeks before the wedding.
Nails
Sheer pink or nude looks best on nails. French or American manicures will always be classic. Avoid red or dark colours, which can look garish against a white dress or clash with most bridesmaid dresses if the shades don't match exactly.
Final tip
Your wedding-day makeup should be slightly more intense than your everyday look, but not so heavy that it overpowers your features. In the months leading up to the wedding, try different intensities of application and have someone take a picture of you each time so you can see how it looks. Go with the look that's freshest and most polished. W
From the files of Ottawa Wedding Magazine.